TALKING WITH... ALEX CLAYTON
September, 2005 continued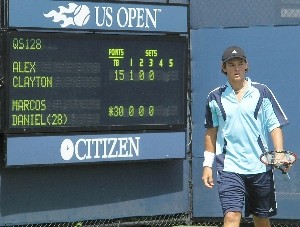 Q: Are you playing Orange Bowl?
A: "I don't think so. I think this is it for me for Juniors."
Q: Are you thinking about college?
A: "I'm going to be a senior. I'm still an amateur. I'll take a year off and if I do go to college I'll go in the fall of '07. I'm not going to turn pro for no reason and give up a chance to go to a really good college and play college tennis. You can really lose a lot if you turn pro when your 14 years old then you're not playing well or you get hurt. You've lost your status and you can't go to school and play on the team."
Q: At what age did you start playing tennis?
A: "My dad started me hitting with my brother when I was about 4 or 5."
Q: Does anyone else in your family play competitively?
A: "My brother (Chris Clayton) plays at Harvard and my two younger sisters play."
Q: Where do you train?
A: "I train at Bolletieri's and in Key Biscayne at the USTA National Training Center."
Q: Are you working with anyone in particular there?
A: "Jay Berger at Key Biscayne helps me out a lot."
* * *
---