TALKING WITH... AMBER LIU
July, 2002 continued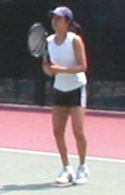 Q: Which tournament was that?
A: "It was actually in Portugal -- between the French and Wimbledon junior championships. I played a couple of $10,000 events there. It was nice winning that, a great step up. All the girls out here are so much tougher than junior girls because it's a living. They just fight until the end. For a lot of the junior girls, it's okay if they lose, but here they have a lot more strategy and a lot more different styles of play. They travel so much."
Q: Are you playing the (USTA Super National) Hardcourts?
A: "I haven't decided yet. I played Hardcourts the last two years and I won last year. That was pretty nice. We'll see." (Note: After this interview, Amber decided not to defend her title at the Super National Hardcourts.)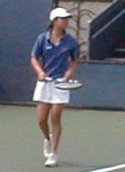 Q: You have remained on top of the Girls' 18s even though you haven't played those events in awhile. Is it important to you to maintain that junior ranking?
A: "Sure, it's very important to me. Last year the main USTA tournaments I played were the Easter Bowl, Hardcourts and Baton Rouge (Chanda Rubin Circuit). I won the last two. That will keep me on top for awhile, but I can always go back and play."
Q: Is there a particular junior tournament that you like best?
A: "Hardcourts is the best because you get the wildcard into the US Open."
---