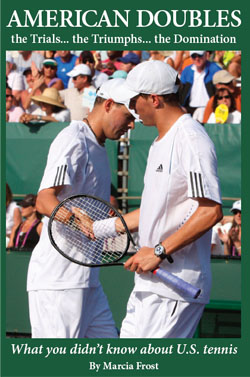 update 5/5/08
Now available on Monthly Guides to
College Tennis Planning
Available in Kindle & PrintAmazon.com.
It will be in bookstores after the debut at the NCAA Division I Championships in Tulsa.


update 5/1/08
American Doubles...the Trials... the Triumphs... the Domination (the title was changed in April) is finishing up at the printer and is expected to be released on May 15th. It contains stories and photos on top American junior, college and professional doubles players, as well as Wheelchair Tennis and World TeamTennis. For up-to-date details, visit
http://www.MySpace.com/AmericanDoubles

August 2007
American Doubles... On Top Of The World
Why am I spending my downtime at the Open watching doubles and interviewing players? I am happy to announce that I have signed a contract with Mansion Grove House to produce a book on American Doubles. The book will explore the United States' domination of doubles in Juniors, College and Professionals. It will also include lots of photos, tips from top coaches and interviews with players who have won major titles in Junior, College & Professional doubles. And, of course, there will be an extensive look at the career of the Bryan Brothers and how they have changed the world of doubles. We are hoping for a release at the NCAAs in May 2008.

I am currently conducting interviews and welcome any ideas of players to include. My current list is quite extensive, but if you have any thoughts -- especially players who have won major titles in Junior, College and Profesional doubles -- please e-mail me - Marcia@MarciaFrost.com.