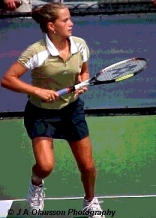 The Lawn Tennis Championships at East Molesay and Roehampton were the events U.S. juniors played in England to get their grass court games in gear for The Boys' and The Girls' Championship at Wimbledon.
Doubles was in the spotlight for the boys at East Molesay as Matt Emery of Lexington, Kentucky and Jason Zimmerman, West Chester, Ohio were semifinals. California cousins Prakash (who is from Encino) and Stephen Amritraj (who is from Calabasas), the sons of former Indian Davis Cup stars Vijay and Anand, were quarterfinalists. Doubles was also the story on the girl's side as Christina Horiatopoulos of Australia and Bethanie Mattek, Boca Raton, Florida were finalists.
The Roehampton competition was tougher to cut through than East Molesay. Prakash Amritraj's round of 16 performance was the boy's best showing. Horiatopoulous/Mattek's quarterfinal topped the girl's results.
Thanks to their standout play in International Tennis Federation events this year, Ytai Abougzir of Boca Raton, Florida; Jonathan Chu of New York; Josh Cohen of Weston, Florida and Emery were direct entries in The Boys' Championship draw at Wimbledon. Ashley Harkelroad of Wesley Chapel, Florida; Jamea Jackson of Bradenton, Florida; Amber Liu of La Mesa, California, Mattek and Sunitha Rao of Bradenton, Florida were straight in The Girls' Singles Championship. Harkelroad was the No. 1 seed.
(Photo is of Ashley Harkerload)
more