1st Annual
APPLE & EVE LONG ISLAND TENNIS CLASSIC
A USTA Circuit Event
July 14-21, 2003


The Apple & Eve LI Tennis Classic is a USTA Professional Circuit event being held at the Syosset-Woodbury Community Park from July 14-21, 2002. This tournament, formerly held in Mahwah, New Jersey, features some of the top women's professionals in the world, as well as top college and junior players. Heading the list of amateurs taking part in this event are locals Bea Bielik and Shadisha Robinson.
This event will benefit the Long Island Tennis & Sports Foundation. In addition to the feature matches, there will be USA Team Tennis Youth Challenge Days, a Pro-Am tournament, Apple & Eve Kids Day and more special events. Tickets are only $10 each ($5 for Town of Oyster Bay residents). Holders of an Advantage Club card from sponsor Pathmark can buy one ticket and get one free.
The Syosset-Woodbury Community Park is located on Jericho Turnpike in Woodbury. For more information, call 516-367-3100.
Bookmark this page for results, stories and photos of the college and junior players in the tournament.
Marcia Frost
---
7/14/02-Day One Qualifying

The qualifying draw at the Apple & Eve LI Tennis Classic is a flashback to the 2002 NCAA Championships at Stanford. Double winners Gabriela Lastra and Lauren Kalvaria are included along with the singles winner and finalist, Bea Bielik and Jessica Lehnhoff. In the luck of the draw, the latter two were set to play each other in a re-match of the NCAA final.
The Bea Bielik-Jessica Lehnhoff match looked to be the an exciting re-match of the NCAA final that Bea easily one, but it was not the case. The first difference was the lack of crowd. The rushed organizing of the tournament had left little time for publicity and the bleachers were empty. Also, Bea and Jessica walked onto the court together smiling and laughing without the fierce competition of the May match. Despite taking an early lead at 2-0, the hard hitting groundstrokes did not continue. Bea, who has been plagued with shoulder problems this Summer, began to weaken and lost the first set 6-3. A trainer was called and she tried to continue, but finally retired at 2-0 in the second set.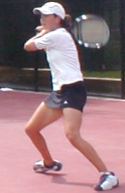 Bea Bielik-- pictured right -- hopes to play some more circuit events before the U.S Open and then return to her junior year at Wake Forest. Jessica Lehnhoff -- pictured left -- has finished her NCAA eligibility, but has a few courses to finish at the University of Florida while she continues on the professional tour.
Gabriela Lastra pulled out a tough match today against Milangela Morales for a 3-6,6-4,7-5 win. She will be facing number five seed Remi Tezuka in the second round. Doubles partner Lauren Kalvaria is set to play the sixth seed, Jennifer Embry, in the only Monday first round match. Both Gabriela and Lauren finished their degrees at Stanford this year and are playing the pro circuit. Junior Kelly Hyndman lost to Aneta Soukoup, 6-3,6-1.
7/15/02-Day Two Qualifying
Tanner Cochran, the last amateur left in the qualifying, was able to advance into the main draw of doubles. Tanner partnered with Shenay Perry to take out US Open Junior champion Marion Bartoli and Ferriel Esseghir, 5-4 (7/4),4-2. (Doubles qualifying was played with four game sets). Tanner was already given a wildcard into the singles draw.
Look for more on Tanner Cochran to come from my interview with this top junior player.
---