At The Australian Open With Marcia Frost...

Thursday January 20th-
Main Draw, Day Four
Junior Qualifying, Day One
I began Thursday in much better shape, with 10 hours of sleep behind me and the sun shining above me in Melbourne, Australia. I was more than ready to watch some good tennis and there was plenty of it at the Australian Open.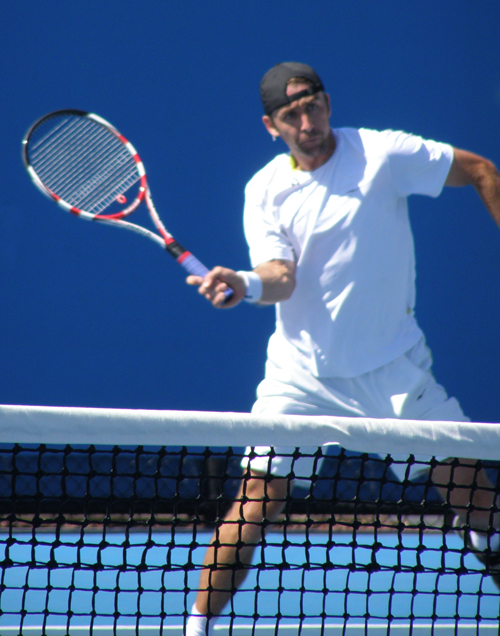 Benjamin Becker left quite a mark on the Baylor Bears, helping the team claim the 2004 NCAA title and picking up a singles championship of his own. He has managed to put together a decent professional career since that time. He added to the resume when he went one for two today at the Australian Open.
First up for German Benjamin Becker was singles against Alexandr Dolgopolo. After dropping the first two sets, the former college player picked up the third with a 6-3 score. It was enough to give him momentum into the fourth, but he narrowly lost that one along with the match in a tiebreaker. Despite playing four sets just a few hours before, Benjamin was on top of his game in his doubles match with partner Michael Kohlman and he needed to be because the duo played Thai twins Sanchai and Sonchat Ratiwatana. There were some good points in the close match that went to the Germans, 7-5,7-5.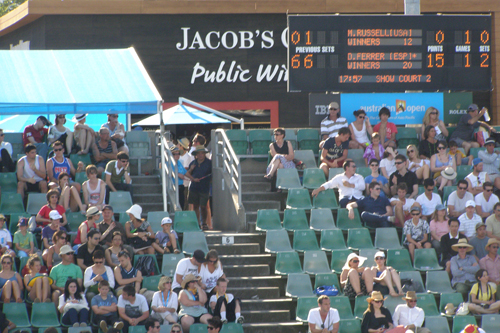 University of Miami grad Michael Russell had a very interesting match going with No. 7 seeded David Ferer, but you wouldn't have known it by the score. The first two sets went to the seed at 6-0,6-1, but they included great points and long games. The third reflected that better when Michael picked up some of the game winning points, but it wasn't enough to get the win and he succombed 7-5 in the third.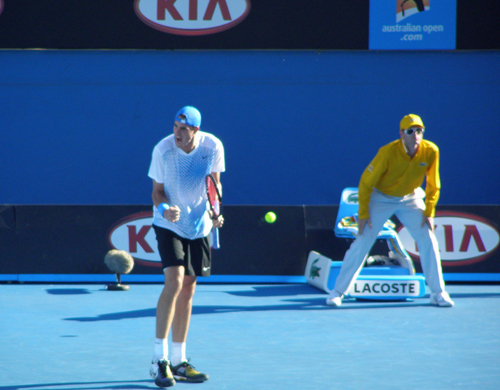 There was no loss for former Georgia player John Isner, no cradling the top 20. It wasn't an easy start, though, as John lost the first set, 6-4, to Radek Stepanek. The second was sealed at the same score for John with his trademark fist pump and from there it was smooth sailing, 6-2,6-1.
I did not make it to the Junior Qualifying, and it's highly unlikely that I will tomorrow, but I did get the results. There were no upsets on the boys side, with all the seeds that played advancing. Emmett Egger (12) blanked Aussie Andrew Macfarlane, while fellow Americans Shane Vinsant (2) and Mac Styslinger (8) had byes and did not have to play. On the girls side, all of the seeds had byes. Unseeded Miriam Ruth Lane of the U.S. fell to Phillippa Tepper of Australia, 6-4,6-2, while America's Stephanie Hazell squeezed out a 4-6,7-5,6-0 win over Australia's Grace-Vertha Primikyridlis.
Friday will be some more great doubles from former college players as the sunshine continues and the competition (and temperatures) heat up.
A special thanks to Tourism Australia and Tourism Victoria for making my Australian Open coverage possible.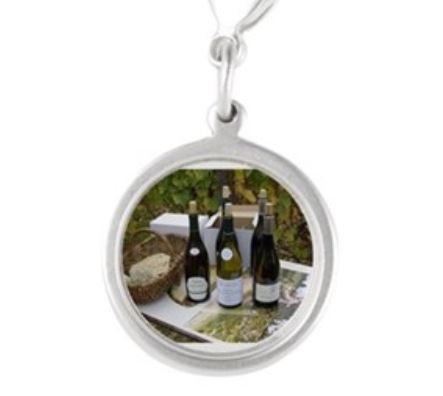 Budget Pet Care
Extra 10% Discount + Free Shipping
The best at lower prices
Join SelectVIP today

Kindle version for only $4.99
Print version & Sr Guides coming soon
---
Return to:
College And Junior Tennis