TALKING WITH...
BRENDAN EVANS & BRETT JOELSON
September 7, 2001 continued
by Marcia Frost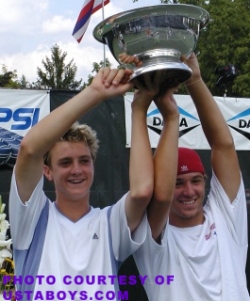 Q: How did the two of you end up playing together?
Brett: "He called me up before Claycourts -- I wasn't playing Claycourts. He talked to my mom. I tried calling him late one night and I talked to his mom and we just ended up playing together at Kalamazoo.
Q: Brendan, What made you call Brett?
Brendan: "We played against each other at the Easter Bowl. My partner at the Easter Bowl (Sukhwa Young) decided to play with someone else so I was looking for a partner. I called up Brett because we had played against each other and he seemed like a good doubles player. He had beat us!"
Q: Are you guys going to play together again?
Brendan & Brett: "Yes. We're playing B1 this month."
Q: What about the Orange Bowl? Any plans for tournaments in the future?
Brendan: "I'm going to play 16s."
Brett: "I can't play 16s at the Orange Bowl. I probably won't even make it. I'll have to play qualies.
Q: I think after this (finishing as a finalist at the US Open) they'll let you in!
Brett: "Yeah."
---