TALKING WITH... BRENNAN BOYAJIAN
March, 2007 continued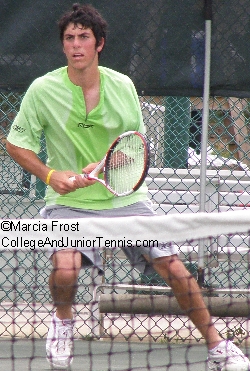 Q: Last time I saw you you were worried about getting into the 18s tournaments. You made a quick transition. So are you going to do it again this year -- win 5 nationals?
A: "I'm going to try."

Q: Well, you've got your first. What has been your best win?
A: "That's tough. Probably when I beat (Ryan) Thatcher because he's always one in the country every year."

Q: Any particular match?
A: "At Kalamazoo."

Q: What tournament did you have the most fun at?
A: "Kalamazoo"
Q: What tournament haven't you played yet that you are looking forward to playing?
A: "I played Orange Bowl and now I'm going to start playing more ITFs. Hopefully the US Open (Juniors) again. My goal is to get into the US Open again."
Q: Where are you going from here?
A: "The ITF in Texas."
Q: Does anyone else in your family play tennis?
A: "My brother. He's at Florida State."
more
---