TALKING WITH... BRIAN BAKER
September, 2002 continued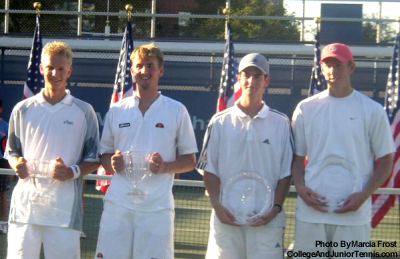 Q: How did you pick Chris Guccione as a doubles partner?
A: "I was planning on playing with Rajeev Ram, but he hurt his back and he went home, so I was partnerless. Chris just asked me to play. I don't know if something happened with his partner."
Q: This is your third US Open. What experience did you bring into this one from the others?
A: "I guess the first couple of years I was still in awe of the tournament, but now I have played so many Grand Slams. I played Qualifying (Men's) here and the juniors to the quarterfinals (in singles). I'm more confident and familiar with the surroundings."
Q: What's your favorite tournament?
A: "Junior or Professional?"
Q: It doesn't matter.
A: "I'd have to say this tournament would rank way up there."
Q: What do you consider your best win?
A: "My most significant was last year against Travis Rettenmaier at Kalamazoo, in the quarters. It was six in the third. I won that one and went on to the final and lost to (Alex) Bogomolov."
Note: Immediately following the US Open, Brian Baker won the singles title at the Kentucky International Junior Tennis Derby.
* * *
---
Monthly Guides to
College Tennis Planning
Available in Kindle & Print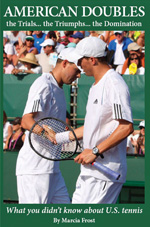 Return to:
College And Junior Tennis
2004 BUSH FLORIDA OPEN
Landings Yacht Golf & Tennis Club
Fort Myers, Florida - June 27-July 3, 2004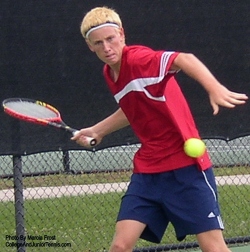 Boys' 18
SINGLES
Finals
Tye Myers (4) over Michael Venus (9-16) -- pictured right -- withdrew/ill
Third Place Playoff
Alex Vuckovic (2) defeated Serguei Boulanov (17), 6-2,6-1
Semifinals
Michael Venus (9-16) defeated Serguei Boulanov (17-32), 6-1,6-2
Tye Myers (4) defeated Alex Vuckovic (2), 6-2,7-5
Quarterfinals
Serguei Boulanov/Bradenton, FL (17-32) deeated George Navas/Belleair, FL (5-8), 6-1,6-4
Michael Venus/Orlando, FL (9-16) defeated Cory Parr/Jericho, NY, 6-1,5-7,6-2
Tye Myers/Naples, FL (4) defeated Andrew Mazlin/Altamonte, Springs, FL (9-16), 4-6,6-4,6-3
Alex Vuckovic/Valrico, FL (2) defeated Christian Guevara/Parkland, FL (17-32), 6-4,6-4
Consolation Finals
Scott Bruckman defeated Nick Meros, 5-7,6-4,1-0(2)
DOUBLES