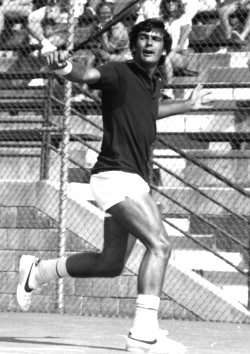 Paul Annacone
Rick Leach
Tim Mayotte
The ITA has announced the 2002 inductees for the Men's Collegiate Tennis Hall of Fame. The players chosen this year are: Paul Annacone of Tennessee; Coach Bernis Duke of Oral Roberts; Richard Harte of Harvard; Erick Isersky of Trinity (TX); Rick Leach of Southern California; Tim Mayotte of Stanford and Julius Seligson of Lehigh. Paul Annacone is also being inducted this year into the Eastern Tennis Assocation Hall of Fame.

* * *
After a 5-2 victory over Texas-Arlington, Tulsa Coach Paige McMurray became the school's winningest coach. The win was the 53rd for Coach McMurray who is in her fourth season at Tulsa.

* * *
In Memory...
Laura DuPont, who was the 1970 national champion while at North Carolina, passed away after a battle with Breast Cancer. Laura is to be inducted into the ITA Women's Collegiate Tennis Hall of Fame this year... Jack Barnaby, former head coach of Harvard's men's tennis and squash, died at age 92. Coach Barnaby was a Harvard graduate who coached there for seven decades.
* * *