This is the first part of a series that will profile the 2003 USA Tennis New England Hall of Fame inductees. Carol Newsom is being inducted into the Hall of Fame on the basis of the contributions she has made to tennis. She is pictured below as a first lady among the men at Roland Garros...Art Seitz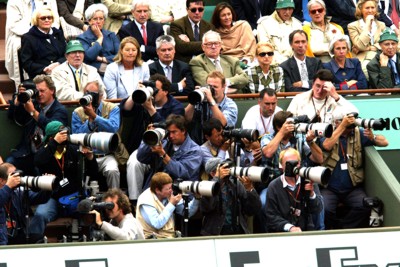 Carol Newsom's passion for tennis didn't start on a local court, and she didn't have a racquet in her hands when she decided to build a career around the sport. Tennis fans the world over can thank PBS for igniting the spark that led Carol to capture the emotion, athleticism and drama of the sport on film, and translate it into still photographs for the world to enjoy.
Carol was working as a high school math teacher when she saw Bud Collins talking about tennis on PBS. She said that program piqued her interest in the sport, because Collins described tennis in such an exciting way that he made people want to be there. She also read the work of Frank DeFord and Rex Bellamy and decided that she wanted to depict, in photos, what they were using words to describe.
So, Carol started to photograph local tournaments during the summers, while she was on break from teaching math. In 1976, she became the tournament photographer at Longwood Cricket Club's event and her work was picked up by wire services (UPI, AFP, Reuters and AP). She remained Longwood's photographer through 1980.
Her work quickly earned recognition, both domestically and abroad. In 1980, she applied for press credentials to photograph Wimbledon and became the first female to receive a press pass for Centre Court.
Other jobs and awards quickly followed. She was Virginia Slims Tennis' official tour photographer for 10 years and has been a fixture at Wimbledon, the French Open and US Open since that first entry onto Centre Court at the Championships 23 years ago. In 1986, she won the Kodak Photojournalism Award. She followed that up with the WITA's Media Person of the Year Award in 1987. And in 1988, she won the Spirit of Wimbledon Photo Competition.
While the average tennis fan may not be familiar with Carol's career and the awards she's earned, most fans of the sport and USTA members are familiar with her photos. Newspapers around the country and world have regularly picked up her work, and she has worked as a contract photographer for TENNIS Magazine. An action shot Carol took of Martina Navratilova graces the cover of Fame, a photo compilation published in 2000 of the 175 members of the International Tennis Hall of Fame. Her pictures of Stefan Edberg stretched on the lawn during his final Wimbledon and a photo of a girl playfully grabbing onto the racquet of a statue at Roland Garros were among those included in "Shooting Stars," a 1997 TENNIS Magazine feature on great tennis photos. Carol has taken widely circulated pictures of Martina Navratilova celebrating her ninth Wimbledon singles title, players suspended in air while stretching for a volley, players jumping to retrieve lobs and even the occasional player balancing a racquet on his head. Carol's work has frequently been mailed into the homes of USTA members, on the cover of USTA Magazine. She continues to work with USA Tennis New England, photographing award winners at the Annual Meeting and inductees and their families at the USA Tennis New England Hall of Fame ceremony.
Through the years, Carol's talent, keen eye and timing have immortalized several special moments in tennis. While the subjects of her photos may shift from professional players to amateurs to fans, the intensity and fun she brings to life in each photo make people want to be in tennis.
Carol, whose spirits remain high, is receiving intensive care treatment for cancer. She can be reached at RUNETRAVEL@AOL.COM. Please, please take the time to write to her and to let her know that she is in your thoughts and pass this on to her friends.