CATCHING UP WITH...
CATRINA & CHRISTIAN THOMPSON
November, 2005 continued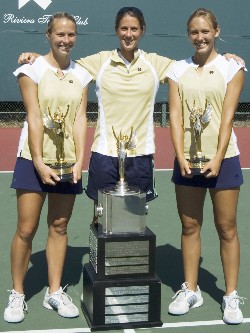 Q: The last time we sat down, you were finishing the Girls' 18 Nationals and on your way to Notre Dame. So how's it going there? Was it the right choice?
Christian: "Yeah! It feels like yesterday and we're now juniors."
Catrina: "The coaches are great and we love our teammates."
Q: Do you have a problem being constantly referred to as the "Thompson Twins"?
Catrina & Christian: "Not at all."
Q: What are you majoring in?
Christian: "The same thing -- marketing."
Q: What are you planning to do after school?
Christian: "We're hoping to go on tour."
Catrina: And if that doesn't work we'll do something different. Maybe law school like our dad.

Q: What are you doing during the school break?
Catrina: "We need to start playing some more challengers to get points back, but I don't think there is one so we'll get more practice back home."

Q: To Vegas?
Christian: "Yes."
Catrina: "It's nice to go home when we get a break because practice ends. We need to work on a few things."
Christian: "And work on (playing) Indoors."

* * *

back to page one
---