MISC. TENNIS
United States Tennis Association (USTA)
International Tennis Federation (ITF)
Tennis Week
Zoo Tennis
The Tennis Channel
USTA Eastern Section
Tennis Against Breast Cancer
Maureen Connolly Brinker Tennis Foundation
Bob Larson's Tennis News
Midwest Sports
International Tennis Federation (ITF) Junior Tennis
College Tennis Camp
Tennis Internet
Tennis Express
Junior Tennis.com
Tennis-X
Tennis Magazine
Tennis One
Tennis Server
Tennistrainer Magazine
Tennis Online.net
Tennis Web
International Tennis Hall of Fame
Tennis Geometrics
Tennis Lovers
Tennis Traders
123 Tennis Greetings
Tennis 101
Ask Tennis Directory
Play Tennis HQ Resource Directory
Photo Focus Resorce Directory
Operation Doubles
Top Tennis Sites
Palos Verdes Tennis
Tennis Racquets
Tennis Insight on Men's Tennis
Tennis Anyone in Southern Cal
Tennis Resources
Journeymen Tennis Video
Ace Man Tennis
Tennis Consultant
The Tennis Network
Advantage Tennis
Jelena Dokic Tour Results
Full Time Tennis
Tennis Directory of News, Equipment & Apparel
Tennis Ticket News
TENNIS ACADEMIES/CLUBS
Port Washington Tennis Academy
A1 Tennis
Barnes Tennis Center
Billy Jean King Tennis Center
Birmingham Racquet Club
Brady Tennis Camps
Central Park Tennis
Deer Park Tennis
Denton Di Laura Tennis Academy
El Dorado Park Tennis Center
El Paso Tennis Center
Extreme Tennis Academy
Lakes Tennis Academy
Libertyville Tennis & Fitness Club
Lincoln Tennis Center
Midland Community Tennis Center
Franisco Montana's Tennis Academy
Montgomery Tennis Headquarters
Orlando Fitness & Racquet Club
Peachtree City Tennis Center
Racquet Club of Memphis
Ritter Park Tennis Center
Seascape Tennis
Schenecty Racquet & Fitness
South Fulton Tennis Center
Tawfikia Tennis Club
The Tennis Center At College Park
Upland Tennis Club
West Side Tennis Club at Forest Hills
Westwood Tennis
Wickertree Tennis Club
Windward Lake Club
JUNIOR TOURNAMENTS
2008 USTA National Junior Tournament Schedule
Copper Bowl
The Easter Bowl
Mutterspaw Championships
USTA National Claycourts-Girls 18
USTA National Claycourts-Boys 14
USTA National Hardcourts at Kalamazoo-Boys' 18,16
USTA National Hardcourts-Girls' 18
USTA International Grass Court Championships
Eddie Herr Championships
Junior Orange Bowl
Prince Cup
MISC. SPORTS
Chicago Sporting
Women's Jobs In Sports
Competitive Edge
Internet Sports Awards
Ortho Athletic
She Loves Sports
Baseball Stadiums
COLLEGE/SCHOLARSHIP INFORMATION
College Tennis Connect
Find Your School With The Ultimate College Tennis Directory
Improve Your SAT or ACT Score

FastWeb's Free Search
To Find More Than 600,000 Scholarships!

CyberEdit

College Board
Scholarship Experts

E-Campus

Student-Athlete Showcase
California Colleges Search
Search Engine for California colleges, community colleges, schools and universities
College Search Engines
Online Education Search
AccuCollege
With the exception of College Tennis Connect, these companies are not part of amerdoubook-20Tennis.com and some of them may charge for select services. Please read all policies carefully so you know what -- if anything -- you are paying for.
COLLEGE SPORTS
Intercollegiate Tennis Association (ITA)
College Tennis Connect
NCAA
NAIA
NJCAA
California Community College
eCampus

College Football History
HIGH SCHOOL SPORTS
High School Tennis Coaches
National High School Tennis
Desert View HS Lady Jags
Catch all the best tennis games on with great satellite tv service! Don't settle for fuzzy cable tv where you can barely see the ball! Get high def dish cable today!
---

<
---

Monthly Guides to
College Tennis Planning
Available in Kindle, Print & EBook
for H.S. Seniors
and H.S. Juniors
---
---
---
---
Monthly Guides to
College Tennis Planning
Available in Kindle & Print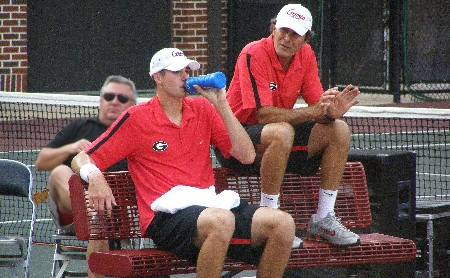 College Tennis featured in
American Doubles...
---
---
---
Vivid Seats is a leading
ticket broker
where you can
buy Wimbledon tickets
at discounted prices. Throughout the season get
tennis tickets
, including
US Open tennis tickets
, and see the best Grand Slam competitions.
---
---
Return to:
College And Junior Tennis