Q: It's been awhile since you won a national tournament. What's happened recently to get you back to the top?
A: "Yeah, it was the 14s. I've been training hard now."
Q: Do you have a new coach?
A: "Yes, my new coach is Nick Saviano. I've been working with him. He opened up his new Academy and now I'm down there (Fort Lauderdale) living and training with him."
Q: What tournament did you have the most fun at?
A: "Intersectionals. That was fun."
Q: What tournament haven't you been to that you most want to play?
A: "U.S. Open. Juniors"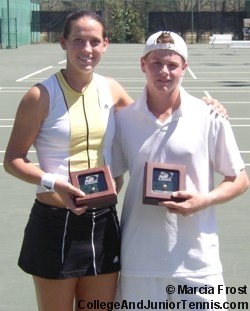 Q: Do you play any other sports?
A: "I used to play ice hockey. I'm still a big fin of that."
Q: Very different from spending the day in the hot sun.
A: "Definitely."
Q: At what age did you start playing tennis?
A: "I feel like I've been playing my whole life, but I really started training at 12 years old. I picked up a racquet at age three."
Q: What else do you do in your spare time?
A: "I like to go Paint Balling."
Q: Where are you going from here?
A: "I'm going to California, Carson, and Palm Springs to the Easter Bowl for the ITFs."
Q: Are you thinking at all about college?
A: "Yes, of course. I'm a sophomore and I haven't really looked into it, but I like the University of Miami."
* * *
Clint is pictured above with Lindsay Burdette.
They came to the tournament together from
Nick Saviano's and both went back winners.

back to page one