2007 DAVIS CUP FINAL
by BNP Paribas
Memorial Coliseum - Portland, Oregon
November 30-December 2, 2007
I didn't go to the Davis Cup Final with the intention of reporting back here. The trip was actually (on my vacation time) to get the final information and quotes for my book on American Doubles. It turned out to be an incredible event and since I've been back I've learned that so much of it was not available on television, so I'd like to share my experience....
I actually arrived in Portland on Tuesday night, locking myself in my hotel room with my computer for two days. I emerged on Thursday night for the BNP Paribas Final Media Party. It was quite an event as the press, ITF, Davis Cup and USTA Executives mingled among great food and wine. The atmosphere was all positive -- as if the United States had already won -- and I got to sit with Davis Cup Executive Director Bill Babcock, who filled me in a bit about the history of this great event.
The atmosphere at Memorial Coliseum was just electric, even hours before the event began. I arrived about three hours before the first match time, got settled in the Press Room and just found myself walking around over and over. I've never been to the Olympics, but I can imagine it is something like this, with a certain amount of patriotic pride that is hard to describe. Before I knew it the crowds were pouring in (the event was sold out each day) and I was making my way down to my seat.
Teams from the United States and Russia were introduced and fireworks went off as the Star Spangled Banner finished. To complete the setting, Billie Jean King tossed the coin between Andy Roddick and Dmitry Tursunov. Now I have watched Andy play many times -- going all the way back to his days in the juniors -- but I have never seen him look so confident. There didn't seem to be one doubt in his mind at any moment that he was going to win this match. As he hit 25 aces to his 6-4,6-4,6-2 win, the crowd cheered louder and louder.
If the word for Andy Roddick was confidence on that first day, the word for James Blake would have to be determination. It was certainly not an easy win, and there weren't nearly as many aces, but James was not letting go at any point. After winning the first set (6-3), Mikhail Youzhny was coming back at him constantly. It took three tiebreakers to finish it off, but he did. And he handed it over to the Bryan Brothers.
Saturday began just like a match that would give the United States its first Davis Cup win in 12 years. Davis Cup Captain Patrick McEnroe made a speech that I wrote down (but probably would never forget anyway) the most important points of which were, "Davis Cup started 100 years ago with the intention of promoting good will between countries... We hope to continue to promote peace through the great sport of tennis." At that time Patrick's wife, singer Melissa Errico, sang the National Anthem and top wheelchair player David Wagner tossed the coin between Igor Andreev & Nikolay Davydenko and Bob & Mike Bryan.
Now I was at Davis Cup as a reporter, but as someone writing a book on American Doubles which features quite a bit of the Bryan twins, it was hard to contain my excitement at the thought of them clinching this Davis Cup tie. Unfortunately, Bob and Mike were a bit excited themselves and it took some time for them to calm down, but after they won that first set in a tiebreaker, the chest bumps and Bryan excitement was back. They took The Cup for the U.S., 7-6(4),6-4,6-2, and the fireworks celebrated the moment.
It took quite awhile for the Davis Cup team to come out of their locker room celebration and into the Pressroom. Even then, the Bryans (first Mike, then Bob) needed a bit longer to come back to earth. It felt like more of a party (Andy never did let go of that glass of champagne) than a press conference and it was hard not to have fun during it. It was clear that the question of Sunday's matches was not in anyone's thought, nor should it be as Captain McEnroe answered when he was asked what he would have done if it was 2-1 going into Sunday, "I think it's 3-0. I think it's over."
After the press conference, I spoke with practice partners Donald Young and John Isner a bit (Mardy Fish and Robby Ginepri were also brought in to work with the team). Both players, who have done so well in the past six months that their rankings are hovering around 100, were just ecstatic for the team and for the experience. The only complaint was from Donald who, at 18, had to watch everyone around him drink the champagne. But he admitted it was a minor complaint considering the experience he got from it all.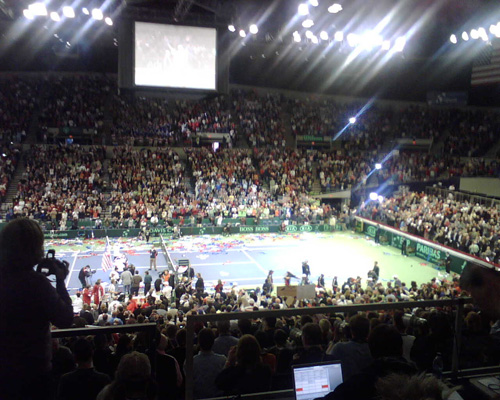 On Sunday, December 2nd, Stan Smith was honored for his contributions to Davis Cup in the Opening Ceremony. Then Bob Bryan played a rare singles match (impressing quite a few people who were unaware of his experience in this event) while Andy Roddick recovered from his celebration. Even though James Blake had joined the party into the wee hours of the morning he seemed more than willing to get out there one last time in 2007 for his country and he did it with a 1-6,6-3,7-5 defeat of Dmitry Tursunov. Then the trophy -- and the fireworks -- came out and it was a red, white and blue moment that I am so glad I got to experience.

Marcia Frost


P.S. I never thought I would be taking (or certainly not posting) a camera-phone photo, but my hand therapist still has me about a month away from focusing pictures on a real camera. It was frustrating not "capturing the moment," so I thought this would be better than nothing!