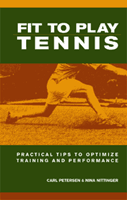 Book Review:
Fit To Play Tennis
by Carl Petersen & Nina Nittinger
Many tennis books with many specialities pass through the College And Junior Tennis office, but Fit To Play Tennis is the most complete one I have seen. Authors Carl Petersen and Nina Nittinger address just about any problem a junior tennis player would face in striving to be in top fitness.
Fit To Play Tennis is an easy to follow manual which includes many photos to explain warm-up and stretching exercises. The book has plenty of blank pages for the player to write notes as they go through the sections. In addition to common information on nutrition, physical & mental training and hydration, Fit To Play Tennis also includes topics that aren't widely covered like jet lag and visual fitness.
Since Fit To Play Tennis covers so many subjects, it really does not get in-depth on all of them, but I find it to be a great general handbook of tips to add to your tennis bag.
###
Author Carl Petersen is a Partner and Director of High Performance Training at City Sports & Physiotherapy Clinics in Vancouver Canada. He was the dedicated physiotherapist at the Olympic Winter Games in Calgary. Author Nina Nittinger is a former WTA Tour Player who is a certified tennis coach of the German Tennis Federation and a licensed mental trainer in sports psychology for professional athletes.

Fit To Play Tennis is available at http://www.fittoplay.com

See More Books at
COLLEGE AND JUNIOR TENNIS'
TENNIS BOOKSTORE