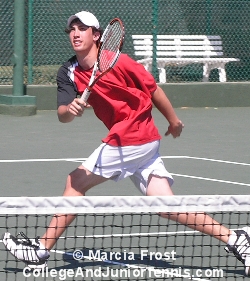 Q: Congratulations.
A: "Thank you very much."
Q: How did you feel coming into this tournament?
A: "You never expect to be at this match (the finals), but I was playing well. I had a couple of things I needed to work out in my game before I could get to this level. I worked hard coming up to it and I just knew I would play pretty well. The nerves are there. Luckily, I found my game and got in a rhythm. The rest is history."
Q: What has been your best win?
A: "I guess this match. It was entertaining. Davey (Sandgren) and I have played so many times and we're good friends. We're playing golf this week. We're friends off and on the court and this was just such a great match because it was the finals. We've played so much tennis that I hadn't meant as much, but this match was just unbelieveable."
Q: What tournament did you have the most fun at?
A: "Kalamazoo. Last year at Kalamazoo, when I saw it for the first time. It's so unbelieveable. It's a different world."
Q: Is there a tournament you haven't been to yet that you're looking forward to?
A: "Hopefully I can get into the U.S. Open Juniors. If I can get my ranking up. That's kind of my next goal."
Q: Where are you going from here?
A: "I'm going to play a southern tournament in Memphis. After that, I don't know."
more