FIRST NO. 1 FOR FIGHTING ILLINI
February 27, 2002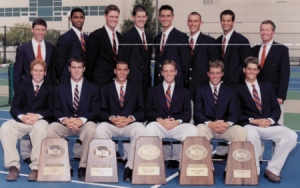 For the first time since the ITA began releasing college rankings in 1977, the University of Illinois men's team has achieved the top spot. The team edged out NCAA champions Georgia by just eight votes.
Today's ranking marks the first time since the 1988-89 season that any Illinois sports team has been ranked No. 1. During that period both the men's basketball and gymnastics teams earned that status, but no other school team has since followed their success. This is also the first No. 1 ranking for any Big Ten men's tennis team.
The Orange and Blue are currently 8-1, their only loss being the 4-3 final against Stanford at the USTA/ITA National Indoors. Senior Mike Kosta reminded everyone that the season still has many games to go, "Our main goal is still to finish the season with the national championship, and this is just the first step for us to get there."
Coach Craig Tilley (pictured right), who has led the Fighting Illini since 1992, said of today's feat, "We're very proud of the accomplishment, our players have worked very hard and deserve this recognition."
---