TALKING WITH... JAMIL AL-AGBA
September, 2003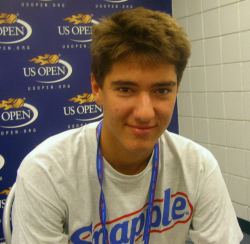 It was January of 2003, University of Southern California's new coach Peter Smith signed one of the top prospects in the junior ranks, Jamil Al-Agba. The two were excited about his joining the trojans in just a year, but -- only ten days later -- Jamil shocked everyone by making it to the semifinals of the Star Island Tennis Classic in Florida before losing to eventual champion Matias Boeker.
While there has been some doubt in Jamil Al-Agba's mind since that event about going to college, he has not had any luck since then on the Pro Circuit. He is moving toward the goal of playing college tennis and looking forward to joining Coach Smith in the Spring.
Jamil Al-Agba was born in the state of Washington and spent his early tennis years winning sectional events in the Pacific Northwest and Southern California. It is the latter which is now his home and it is the Hardcourts of the western state that has become his surface through singles trophies at the Boys' 18s Quicksilver (2001) and Mutterspaw (2002) Championships as well as the California Bowl (2002). Jamil also made it to the finals of the USTA Super National Hard Courts this summer and won two rounds at the US Open Junior Boys Championships before losing to the second-seeded Florin Mergea.
I sat down with Jamil at the US Open. He had been given a wildcard into the Men's Qualifying event before the juniors began, but couldn't get past twenty-ninth seed Ramon Delgado of Paraguay.
by Marcia Frost
---