TALKING WITH... JENNIFER STEVENS
August, 2003 continued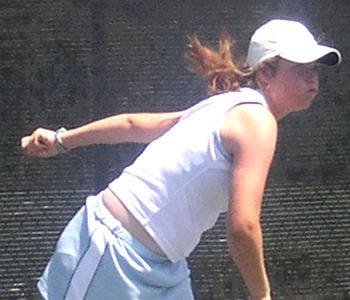 Q: What has been your best tournament win?
A: "Claycourts. It has been my best summer ever. I won (G16) Claycourts, States (Florida) and the Bush Florida Open. And I'm still in the Hards (Jennifer lost in the semis). I've never had a better summer."

Q: Why do you think that is? Why is this summer your break out time?
A: "I've been working harder. I've won state once before, but I've never won the Bush. And Claycourts! I'm playing up because I'm only 14."

Q: What tournament did you have the most fun at?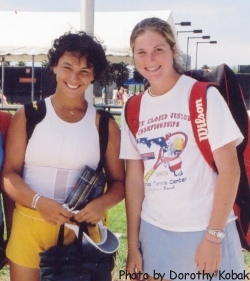 A: "I'd have to say Claycourts. I roomed with Laura Sabinski the first half of the tournament. When she got out of the tournament my doubles partner (Christina Liles) moved in. It was a really big room and we had fun."
Q: What tournament haven't you played yet that you're looking forward to?
A: "US Open Juniors. They might give me a wildcard, but I'm really not sure."
Q: Where are you going from here?
A: "If I don't get into the US Open I'm going to take awhile off for summer reading and math homework because I'm going into ninth grade and that's high school."
Elizabeth Kobak pictured above with Jennifer more
---