TALKING WITH... JOHN ISNER
December, 2006 continued
Q: What are your goals for the spring season?
A: "My goal personally is to have a season like I did last year where I didn't lose a match. If I can do that I know that I'll be helping our team out. Our team goal is to start off by winning our conference, which as you know is an extremely tough conference, and then take it one step further than we did last year and win the NCAAs."
Q: How do you feel about having such high profile freshman coming in this year?
A: "Only one is in school right now. That's Jamie (Hunt). The other freshmen (including Jamie's partner in the U.S. Open Doubles Championship, Nate Schnugg) are accomplished players as well and we're going to need them to help out a lot this year. From what I know they're great players and they should do really well."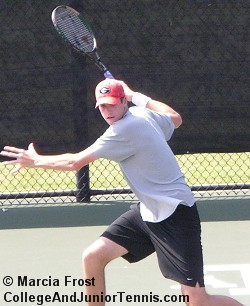 Q: Are you excited about the NCAA Championnships coming to Georgia?
A: "Oh... That's one reason I came to Georgia... so I could have it my senior year. It's going to be amazing. It's going to be an awesome atmosphere. We usually pack our stands when the NCAAs are here. We are going to have a great team. I can't wait."
Q: What are you doing after graduation?
A: "I'm actually not graduating this year. I have a semester left. I couldn't get it done. I really don't know yet. I may stay and finish one more semester -- one more football season, which is pretty fun. Obviously, I'm going to go play pro, but I just don't know if it's directly after this semester or if I'm going to try to graduate after the next fall."
Q: What is your major?
A: "I'm a Speech Communications major."
more
---