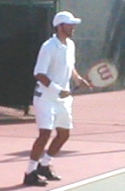 Q: What are your goals for the upcoming Summer season?
Josh: "I'm going to play the junior circuit in Europe."
Julia: "I am going to play international, starting with the French Open Junior Championships. I want to be Top 50 ITF, so I will be concentrating on international events."
Q: Are you thinking about college and/or a pro career?
Josh: "I am still in eleventh grade. I might go to college. If I'm winning then of course I'll turn pro."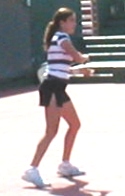 Q: The two of you have played mixed doubles together (they were semifinalists at the Eddie Herr), are you close away from the court?
Julia: "We're very close."
Josh: "We get along very well."
* * *