TALKING WITH... JULIA BOSERUP
March, 2006
15 years old (Date of Birth: 9/9/1991)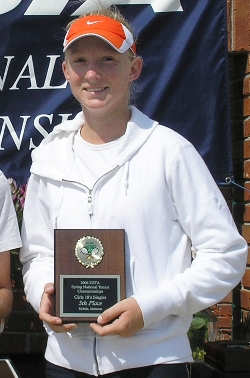 Fourteen year old Julia Boserup caused quite a stir at the USTA National Spring Championships. The petite California girl was not phased by the fact that -- in the 18s -- she was playing against the "older girls" as she proved that age and size doesn't matter.
Unseeded Julia played her way through the Mobile Tennis Center without losing a set into the quarterfinals. She upset ninth-seeded Laurianne Henry, but fell to Claire Reitsch in the quarters. It certainly didn't discourage her, though, because she went on to win the backdraw -- beating three seeded players in a row.
There have been many great finishes for Julia Boserup in both USTA and ITF tournaments. Just last year she surprised everyone on her homecourt in Carson, California, by making it to the finals of the International Spring Championships before falling to Alison Ramos. She continue the momentum with making it to the semifinals at the International Grasscourts and quarterfinal finishes at the the BNBP Paribas Cup in Paris, a National Open and the Girls 16 Clayourts. It was the final 16s for Julia, who has proved she is ready for the highest age group.
I sat down with Julia Boserup just after she took her fifth place trophy at the USTA National Spring Championships. Though there was no sign of it in her play, she is a quiet 14 year old at heart.
by Marcia Frost
---