TALKING WITH... KATRINA TSANG
August, 2003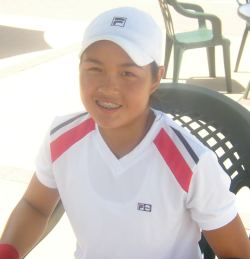 During her years as a junior tennis player, Katrina Tsang has picked up numerous trophies, but no year as been quite like 2003. This year Katrina has taken third at the Easter Bwl, won the doubles at the International Grasscourts (at which she was a singles finalist), won the Southern Open singles and won the Super National Hardcourts doubles and singles fifth place. For the tournaments she didn't take home a trophy, she was often a quarter or semifinalist.
As impressive as her resume may sound, it becomes even more amazing when you realize that it belongs to a fifteen year old who started collecting the prizes four years ago. Katrina's playing has been steady from the beginning and has brought her to the top 20 of the rankings in every age division she's played. In fact, she was even at No. 1 in the Girls 14s for most of 2002.
Katrina, a North Carolina native, was the top-seed at the USTA Super National Girls' 16 Hard Courts. Though she lost in the round of 16 (to Ashley Joelson, 6-3,7-5), Katrina kept up the determination and won the Feed-In Consolation to place fifth as well as capturing the doubles crown with partner Liberty Sveke.
I sat down with Katrina at the Hardcourts and was amazed by her maturity. Her goals are clear and she knows just what it would take to achieve them.
by Marcia Frost
---