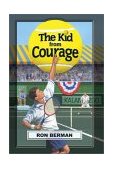 Book Review:
The Kid From Courage
by Ron Berman
I've never seen or even heard of a fiction book on junior tennis, so I was especially excited about reading The Kid From Courage. It turned out to be worth the wait.
The Kid From Courage follows the story of junior tennis player Bryan Berry. Fourteen year old Bryan is a good local player living in Kansas when the story begins. Despite his dreams of playing the Nationals, he does not have what it takes to get past the local Missouri Valley tournaments. Then he gets together with "Old Man Johnson," a former junior tennis coach who had been waiting for a player like Bryan who he could take under is wings.
The Kid From Courage follows the relationship of player and coach as the progression of Bryan's tennis grows. Though many people question his choice of coaching, Bryan sticks by his coach and it brings him through the local tournaments and the sectionals until he gains his endorsement to the Super National Hardcourts -- Kalamazoo. What happens when Bryan actually arrives at his dream tournament you will have to read the book to find out.
Even though I found a little too much drama with Bryan's absentee father and sick coach, in the end, The Kid From Courage is the perfect racquet bag companion for every player. It has a lot of heart and encouragement that will keep players -- young and old -- hoping and playing.
###
Author Ron Berman is a former junior tennis player and teaching pro. The inspiration for The Kid From Courage "came from his wise and endearing coach, who taught lessons about life as well as tennis."
The Kid From Courage is published by Scobre Press and is part of the "Dream Series." It is available at Amazon for $9.95