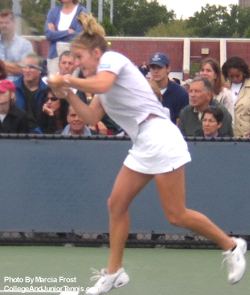 Q: You were ranked at the top of the Girls' 18s very young? After that you started to play events other than USTA National tournaments. Why was that?
A: "I have played Girls' 18 Nationals for four years. I think I first started experimenting with ITF Juniors. That was a step up from USTA National juniors. Then I went up to WTA and tried all these tournaments. That's another step to get my feet wet."
Q: How do those ITF tournaments differ?
A: "Competition is way tougher. Girls are out there to make their mark, to fight much more than Nationals. Definitely, the competition is better and the game's a little bit different. People do different things. They play smarter."
Q: How are the Pro Circuits different?
A: "They're even better. They take advantage of that one point in the match that could change everything. They know when that point is and they win that point and they win the match. They know what they're doing."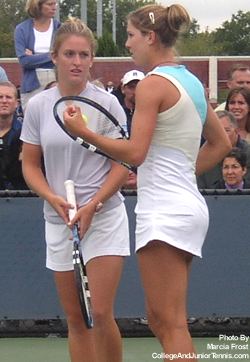 Q: But do you 'enjoy' playing with them?
A: "Oh, yeah. I get a learning experience from them?
Q: Are there any other careers that you have thought about?
A: "Not really."
Q: You've been playing with Tanner (Cochran) a long time and doing very well. What do you attribute that to?
A: "We have a lot of fun on the court. If we don't have fun on the court, we don't do well. If we're mad that we lost singles that day, or whatever it might be we're not going to play as well if we don't go out there and just try to have fun."
"Here (at the Open), we played the number three seeds first round and she said, 'Let's just go out there and have some fun' and we played pretty well. We even had some chances."
"We know what each other's strengths are and if she's at the baseline and I'm at the net I usually know what shot she's going to hit. I'm just used to it."