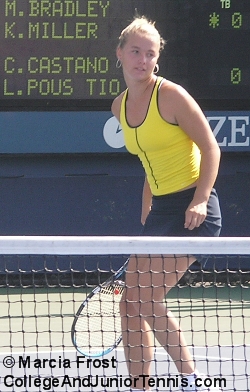 Q: (Kristi had just lost in the semifinals of the ITA Indoors to Theresa Logar, 6-7(5),6-2,6-1.) The two of you played a lot in the Juniors. Do you know what the record is?
A: "(Laughter) It is not good. They were fairly close matches and she always plays her game when she plays me and it is good. I thought the way I was playing and the way I have been playing maybe it would be a different outcome. I had to build more on that first set. Obviously I had some momentum and I just lost it."
Q: You had a great season and you have been going into tournaments this year seeded high. Is it more pressure?
A: "No, I do not think so because I don't think it has really changed that much for me because I want to win every tournament I play whether it was last year or this year. I think it is a little bit easier this year just because I have not had to do pre-qualifying. It is great that I am getting into the tournaments straight out and getting to play against really good players. Sure, I guess there are some expectations. Other people have, but mostly it's what you put on yourself. I thought about it alittle during the summer, knowing how to deal with it, but I think so fair it is okay."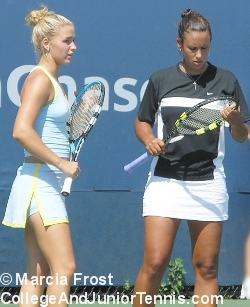 Q: You had an incredible match at the Open with Megan (Bradley). Was there a time when you thought about not going back to school and continuing to play with her??
A: "I had so much fun playing with Megan, but it was kind of a random thing."

Q: You two also played at the GHI?
A: "Yeah, we played there and lost in three sets. It was pretty good because we never played together. We just met over the summer. We were opponents -- I played her twice during the season. She was from Miami, one of our big rivals, but for the most part I did not know her personally until we played a USTA training camp in LA. We spent a week there and when we were in the Bronx we decided to play together and we played well. She called me (after that) and we had a chance to play at the Open, I was just like 'Sure, I will play!'"

Q: You can't turn down the US Open.
A: "Of course Brian (Shelton, the Georgia Tech coach) had been there and said even if you have a small chance to experience that you should go. So I went and we won our first round and it was just so cool, but you know I feel that I still have a lot to develop. I still have some work to do before I go pro, but that gave me confidence. Even in singles this summer, winning some matches in the circuit, I was just not sure what I was really capable of and no I feel different."

Q: What made you pick Georgia Tech?
A: "It was a combination of things. I only looked at schools in the south because I really wanted to be in better weather because I am from Michigan. I do not really like indoors. I like being outside. I wanted a school that had good academics and a really good atmosphere for coaching and for my team. I couldn't ask for anything better. When I looked at the school, I just loved Bryan, he is awesome. We have such a good relationship and I just did not have that with any of the other coaches as much. " more