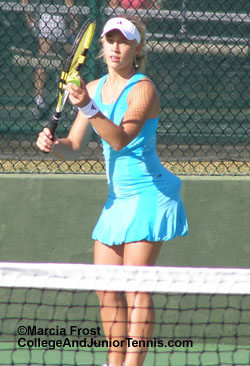 When you take a look at Lauren Herring's tennis resume, you can't help but to be impressed. It comes out to pages of gold, silver and bronze ball for placing at national tournaments in both doubles and singles. It's quite a list for any accomplished junior player, but this player hasn't even been at it for that long -- she's only 14 years old.
North Carolina native Lauren Herring didn't just age up, she jumped from one group to the next without missing a beat. She went from "Little Mo" to the 12s where she celebrated the week of her 11th birthday by winning the South Draw at the USTA National Clay Courts. Also in 2004, Lauren was in her first national doubles final (with Jenny Falcone). After the brief introductory year in the 12s, Lauren Herring was in full swing in 2005. She won nearly every major title that year, ending with eight gold balls and two silver ones. Five of those first place finishes were in doubles and she did it with three different partners. Twelve year old Lauren would finish '05 as the No. 1 player in the 12s in singles and doubles.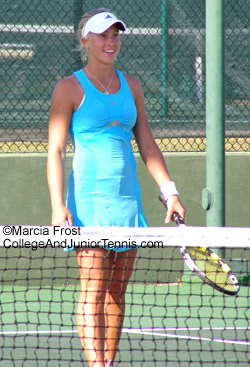 While Lauren did not play much in 2006, she was certainly back in top form for 2007. It would be an unbelievable year as she won national titles in the 14s, 16s and 18s. Among those was her sweep at the Easter Bowl, as the partnership with Grace Min would become a regular occurrence. Lauren continued to excel every event and won every match she played at the '07 16s Zonals. In the fall of 2007, she would pick up four national doubles titles -- and three of them were in the 18s. It was a made to order record for the new combined ranking and, as of March 19th, Lauren Herring would manage to be ranked No. 3 in the 14s; No. 5 in the 16s; and No. 47 in the 18s -- at the same time.
Fourteen year old Lauren Herring and still 13 year old Grace Min decided to keep their partnership at the highest level, entering the USTA National Spring Championships in the 18s. It was a gamble that paid off as the two upset their way to the winners' circle, taking the championship after a hard-fought week.
It's always enjoyable to talk with the bubbly Lauren Herring, but she really had my ear when she told me that her favorite pro was John Isner and she was already thinking about the possibility of college tennis.
by Marcia Frost