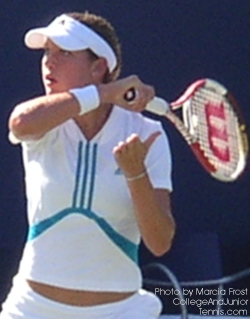 Q: What tournament did you have the most fun at?
A: "I'd have to say Costa Rica. It was an ITF that I played."
Q: Is there a tournament that you haven't played that you'd like to?
A: "Wimbledon."
Q: Are you going this year?
A: "I'm going to try. I've played Australia and the U.S. Open, but not Wimbledon."
Q: Do you play any other sports?
A: "Not right now. Just horseback riding once in awhile."
Q: Is there anything else you do in your spare time?
A: "I'd like to get back to more horseback riding. I'm looking for a place in Florida to go."
Q: At what age did you start playing tennis?
A: "At six and a half. I played my first tournament at seven."
Q: How did you do?
A: "That's a good question. I definitely won my first match. I think I won a couple of rounds. One of the older people knocked me out."
Q: Where are you going from here?
A: "From here I'm going home for a few days. It's a huge treat for me since I've been living in Fort Lauderdale. Then I'm going back to Florida to train for a week and then I'm going to play the ITF in Carson (California) and the Easter Bowl in Palm Springs."
Q: Who are you training with?
A: "Nick Saviano."
* * *