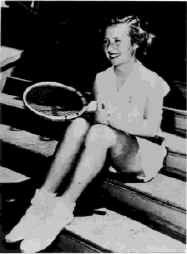 Maureen Connolly was an all-around athlete growing up in San Diego when she -- quite by accident -- decided to give tennis a try. From the moment she picked up the racquet, she proved to be a natural and quickly began winning every tournament she entered.
"Little Mo," as she was named early on because of her petite size, was obsessed with the game of tennis and practiced constantly. Her persistence -- and coaching by the renowned Eleanor Tennant -- led her to winning the Junior Nationals at a record breaking 14 years old. Within two years, Mo was winning adult tournaments and she became the youngest winner ever at the USTA American Women's Championships when she took the trophy at 16.
At only 17, "Little Mo" one her first of three Wimbledon titles. In 1953, when she was just 18, Maureen Connolly became the first woman to win the Grand Slam (Australian, French, Wimbledon & U.S. Open). Unfortunately, her career ended just a year later when a horseback riding accident severely damaged her leg and ended her tournament playing days.
In 1955, Maureen Connolly married Norman Brinker. They settled in Dallas and had two children. Before her tragic death from cancer in 1968, Maureen Connolly Brinker and her close friend Nancy Jeffet co-founded the Maureen Connolly Brinker Foundation to help promote the game that "Little Mo" so loved. The organization flourishes today under the commitment of Executive Director Carol Weyman.
Click Here For More About "Little Mo"
Click Here For Entry Information For "Little Mo" Tournaments