MAUREEN CONNOLLY BRINKER CHALLENGE TROPHY
Coral Beach & Tennis Club - Bermuda
September 28-30, 2000
The 28th annual Maureen Connolly Challenge Trophy took place last weekend in Bermuda. The event features two teams of girls (19 and under) from the United States and Great Britain playing a total of eleven matches over three days. During the 27 years this event has been played, the United States has won 17 times.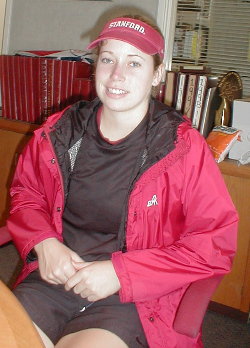 Thursday, September 28th
Jane O'Donoghue/Great Britain defeated Sarah Taylor/USA, 7-5,6-2
Elena Baltacha/Great Britain defeated Megan Bradley/USA, 7-6(5),6-4
Laura Granville/USA (pictured right) defeated Anne Keothavong/Great Britain, 6-2,7-6(2)
Alice Barnes/Nicola Tinder-Great Britain defeated Sarah Taylor/Candice Fuchs-USA, 6-2,3-6,6-2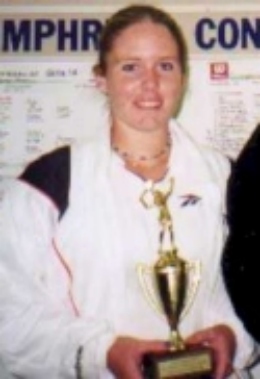 Friday, September 29th
Candice Fuchs (pictured left) defeated Nicola Trinder, 6-3,6-1
Ansley Cargill/USA defeated Alice Barnes, 6-2,6-1
Megan Bradley defeated Jane O'Donoghue, 6-4,6-2
Elena Baltacha defeated Sarah Taylor, 6-2,7-6(6)

RAIN IN BERMUDA POSTPONED PLAY AND THE EVENT WAS CALLED A "DRAW"

---