MAUREEN CONNOLLY BRINKER CUP
Royal South Yarra Lawn Tennis Club - Melbourne, Australia
March 1-3, 2002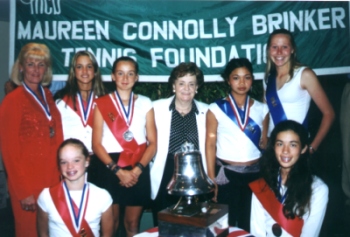 The Maureen Connolly Brinker Cup, which was played for 15 years before stopping competition in 1992, began play again this year. The competition features the top four girls in 14s and the top two girls in 16s from the United States and Australia. The event alternates countries each year and was played in Melbourne for 2002.

The United States team of Andrea Remynse, Yasmin Schnack, Karina Porushkevich, Krysty Marcio, Riza Zalameda and Kady Pooler was led by Captain Valerie Ziegenfuss. Nicole Bradtke acted as Captain for the Australian team of Olivia Lukaszewicz, Bojana Bobusic, Natalie Tanevska, Stephanie De La Torre, Casey Dellacqua and Daniella Dominikovic. Though they have lead the competion 13-2, the United States team succombed this year, 10-4.
Sunday, March 3rd
Australia 3, United States 1
Riza Zalameda (USA) -- pictured right -- defeated Casey Dellacqua (A), 6-3,6-3
Olivia Lukaszewicz (A) defeated Andrea Remynse (USA), 3-6,6-2
Daniella Dominikovic (A) defeated Kady Pooler (USA), 6-3,7-5
Natalie Tanevska/Stephanie De La Torre (A) defeated Krysty Marcio/Karina Porushkevich (USA), 5-7,6-2,6-2
Saturday, March 2nd
United States 3, Australia 2
Natalie Tanevska (A) defeated Krysty Marcio (USA), 6-1,6-3
Riza Zalameda (USA) defeated Daniella Dominikovic (A), 6-4,6-2
Karina Porushkevich (USA) defeated Stephanie De La Torre (A), 6-2,6-4
Kady Pooler (USA) defeated Casey Dellacqua (A), 2-6,6-4,6-4
Olivia Lukaszewicz/Bojana Bobusic (A) defated Andrea Remynse/Yasmin Schnack (USA), 6-3,7-6(6)
Friday, March 1st
Australia 5, United States 0
Bojana Bobusic (A) defeated Andrea Remynse (USA), 6-7,7-6(4),7-6(4)
Stephanie De La Torre (A) defeated Krysty Marcio (USA), 6-2,7-6(4)
Natalie Tanevska (A) defeated Karina Porushkevich (USA), 6-1,6-3
Olivia Lukaszewicz (A) defeated Yasmin Schnack (USA), 6-2,6-4
Casey Dellacqua/Daniella Dominkovic (A) defeated Riza Zalameda/Kady Pooler (USA), 6-2,6-4
---