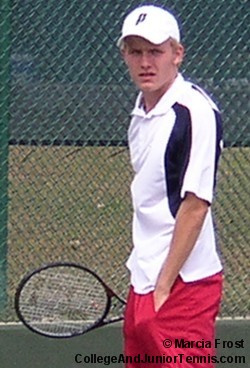 Q: Why did you pick Vanderbilt?
A: "It just had pretty much everything I was looking for. One of the main reasons was actually Ken Flach, the coach, but now he has just resigned. Hopefully there'll still be another good coach to take his place. Also, it's in the SEC, which I think is the strongest in the nation, so it will be great competition. I've played every person on the team and I know them very well. We have good chemistry so I think it will be pretty good. Also, Vanderbilt is a good size school. It's 12,000 students. It's not as hectic as a state school so I like that. The campus is great and it's great academically."
Q: How hard is it when you play against your doubles partner?
A: "Very tough. Every single time we play it's a battle. It was no different yesterday. Nerves always rise a little but more than usual because it's a rivalry."
Q: And he had won the last time you played. In February at the National Open.
A: "Right. He won three weeks ago in the finals of Tampa. Each time it's a battle and we've come to expect it."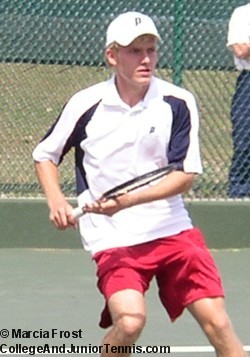 Q: Do you prefer singles or doubles?
A: "I prefer singles, but I've always done pretty well in doubles. Every since I switched to a serve and volley game I've been doing really well in doubles. I'm lucky with that."
Q: What has been your best win?
A: "I guess any balls that I've gotten for USTA tournaments. Especially the singles ones. Since you're by yourself I feel the most proud of those. Like today and at the Claycourts where I got third place."
Q: What tournament did you have the most fun at?
A: "That's a tough one. This (the USTA National Spring Championships) was actually a great tournament. The facility is great with 50 courts. You can't beat that. I had a lot of fun here and Kalamazoo. I've had some bad luck there, but it's home for me."
more