I had tried numerous times during the US Open to arrange to sit down with Matt Bruch for an interview. I was determined to accomplish this at the ITA Indoors, so I cornered him the day after he squeaked by Erling Tveit in two tiebreak sets.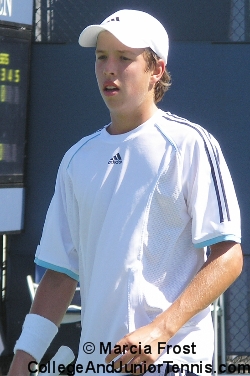 Q: That was quite a tournament run you had at the Open.
A: "Yeah, I got a little unlucky."
Q: Unlucky?
A: "Things in the second set (he lost to Donald Young 6-7(4)) did not go my way and I was kind of not there in the third (2-6)."
Q: But you made it quite far in the tournament considering you were a qualifier. Was there ever a time you thought about not going to Stanford?
A: "Not really. In the juniors this year I did not do too well. I just wasn't playing that well. The only difference now is that I kind of got a little more grounded and I kind of understand myself a little better. Living on your own, a little more maturity, a little more emotional maturity... it helps."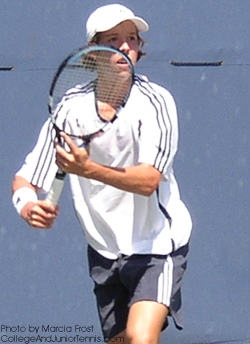 Q: What made you choose Stanford?
A: "It is the best school in the country. It's impossible to argue against that. No school has better academics and athletics than Stanford out of all the schools that I looked at. It is incredible. You come out of Stanford and you are in a good position for the rest of your life."
Q: You did very well at the All American and there's a high seeding here. Is it a lot of pressure?
A: "A little bit, but you don't try to think about that because we are starting. You try to play the best you can every match."
Q: You had a tough match yesterday (against Erving Tveit).
A: "He's a different kind of player. It is not like you see someone like that all the time. The courts are pretty fast out here (the Racquet Club of Columbus) and he keeps hitting the balls extremely flat and they were just skidding. I mean he played well. I was pretty lucky to be able to find out how to play him and hit my forehand a little bit better to take the two sets."
Q: And you looked more confident than at your first match.
A: "A match under your belt always helps. It is like the biggest thing when you are not used to playing indoors. I mean, granted I am from Chicago, but in the last nine months I have not hit a ball indoors."
more