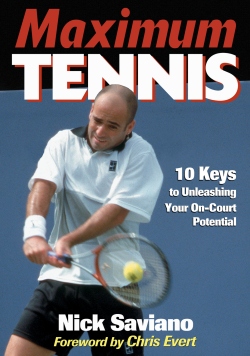 Book Review:
MAXIMUM TENNIS
10 Keys To Understanding
Your On-Court
Potential
By Nick Saviano
There is no such thing as a "coach in a box," but Maximum Tennis comes close to supplying a "coach in a book." Nick Saviano, Director of Coaching Education for the USTA, has put together chapters that cover every aspect you need to work on to become the best player that you can be.
As if the experience he has as a world-class pro and coach wasn't enough, Nick Saviano has called on Chris Evert to write a forward and chapter introduction. He also has nine other top names in tennis introducing each of the other chapters. Among these are Stanford Coach Dick Gould and junior tennis coach Nick Bollettieri.
With chapters such as Visualize Your Ultimate Player, Optimize Technique and Play From The Heart, Maximizing Tennis provides a blueprint for tying it all together. As Nick Saviano says, "all the game's elite athletes do have certain characteristics in common that enable them to play their best possible tennis."
Maximum Tennis is full of valuable tips and plans. It is a must for the aspiring junior and college player.
by Marcia Frost
Maximum Tennis is published by Human Kinetics and sells for $19.95. It is available for 30% off at Amazon
---