Saturday, May 17, 2008-Day Two
Women's Team Quarterfinals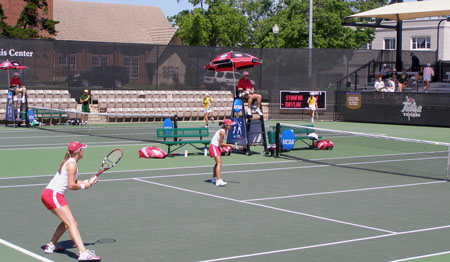 The Bears were growling and the Gators were snapping -- what a wild ride it was on Saturday as the higher seeds fell one by one at the NCAA Division I Women's Team Championship.
The day started with No. 4 Stanford and No. 5 Baylor. Despite the closeness in the seeding numbers, the sheer history of the Cardinals and the fact that the Baylor Bears had not even been in an NCAA women's team semifinal, gave Stanford, who had not missed a semi since 1985, the edge. From the beginning, the crowd support kept the momentum up for Baylor. It was endless doubles that went on for an hour and a half before it was decided in favor of Baylor at 9-7 -- even though Stanford had been primed to take it at 7-4. And that was just the beginning.
Lenka Broosova took out Celia Durkin rather quickly, but the other first sets split between the two teams and it was not clear who was to take the match, at least for awhile. After Lindsay Burdette claimed the next point for Stanford, the Bears got hungry and were primed to take it on three different courts. Fittingly, it was actually an NCAA champion, Zuzanna Zemenova, who clinched it and kept Hilary Barte from a 20 match win streak at No. 1.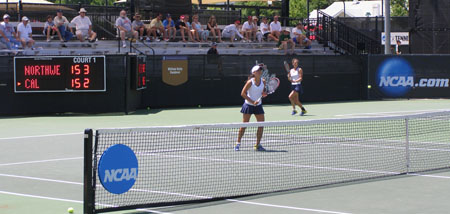 Before anyone could recover from the shock of Stanford's departure, it was happening again. Northwestern had won the doubles point (another hour and a half challenge), but the Cal Bears were coming on strong, taking the next three points. At a 1-3 defecit, it looked to be over when Claire Ilcinkas had Lauren Lui at 6-3,5-4. The Wildcat came back for a 7-5 set of her own and the match was still on.
Unfortunately for the top-ranked (and seeded) Northwestern, Cal never let up. Though Georgia Rose claimed a victory over Marina Cossau, Cal was close to finishing on the remaining courts. It was, once again, an NCAA champ who did it, this time Susie Babos, over Maria Mosolova.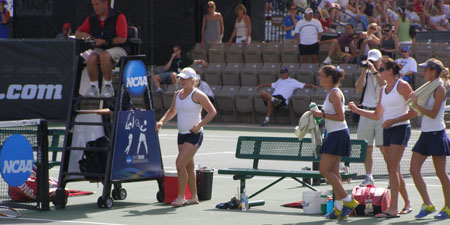 Starting the late afternoon lineup was the one match of the day that held seeding. Armed and dangerous with their "One team, one goal, one step" shirts, the UCLA Bruins were not going anywhere. Surprise unseeded quarterfinalists Arkansas had pulled their share of upsets during the NCAAs, but there was none to be had today. With the exception of the No. 1 position, where top-ranked Aurelija Miseviciute took an early set over Riza Zalamaeda, the Bruins were in charge. Though Riza did come back to take the second, straight set victories by Tracy Lin, Yasmin Schnack and Andrea Remynse gave UCLA the win before she could finish. Bruins have now won every match in this tournament with a shutout score.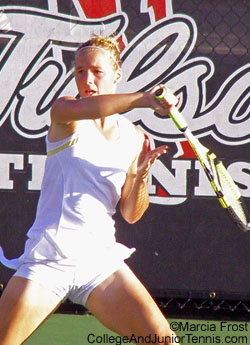 It was yet another long doubles point as Georgia Tech-Florida hit the courts. The defending champion Yellow Jackets took a quick one in the first position, but the Gators ran the lead on the other two, with identical scores and simultaneous match points at two and three, where Anastasia Revzina & Julia Cohen improved their record to 21-0. From there it was a roller coaster ride. Florida's Whitney Benik defeated Christy Striplin, Georgia Tech's Amanda McDowell came back with one over Csilla Borsanyi and then the Gators had a big lead when Marrit Boonstra took out Kirsten Flower. The score was closer at 3-2 after Kristi Miller's win over Julia Cohen, but Noelle Hickey fell in three to Anastasia Revzina and the chance of a repeat team champion was gone for this year.
It is the first time since 1999 that all four seeds will be gone from the women's semifinals. On Sunday we are back to the men, where they have a chance to do the exact opposite as all four remain. There is also a possibility that both Baylor and UCLA could end up with men and women in the semis.
Until tomorrow,
Marcia Frost
For Additional NCAA Stories & Photos, check out:
Zoo Tennis
and the Official NCAA Division I Championship Site
click on a photo to enlarge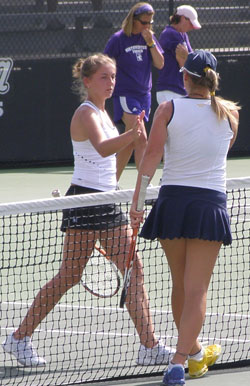 Maria Mosolova
& Susie Babos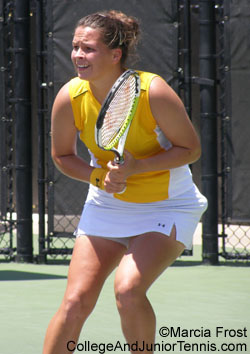 Lenka Broosova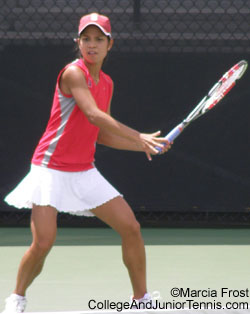 Hilary Barte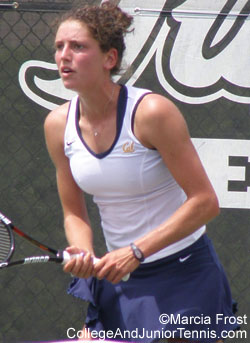 Claire Ilcinkas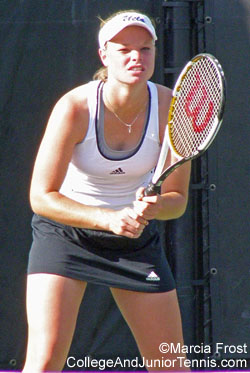 Andrea Remynse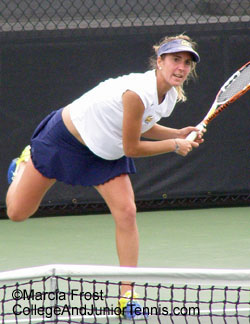 Marina Cossov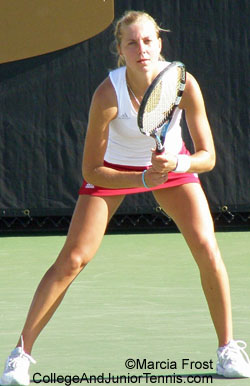 Aurelija Miseviciute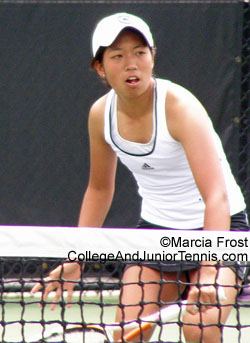 Lauren Lui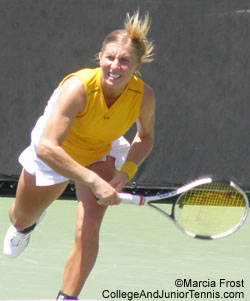 Zuzanna Zemenova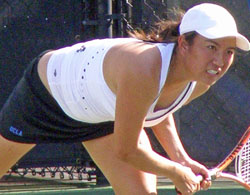 Tracy Lin
We search millions of flight and hotel combinations, to get the best deals. Yes! Getaways makes booking your next vacation as easy as it can get - BOOK TODAY at Yesgetaways.com!
---
Monthly Guides to
College Tennis Planning
Available in Kindle & Print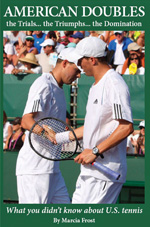 ---
---
---
---
TENNIS WEEK
---
---
Check Out
LAUREL SPRINGS
---

---
---
Return to:
College And Junior Tennis