Saturday, May 24, 2008-Day nine
Women's & Men's Quarterfinal Singles and Doubles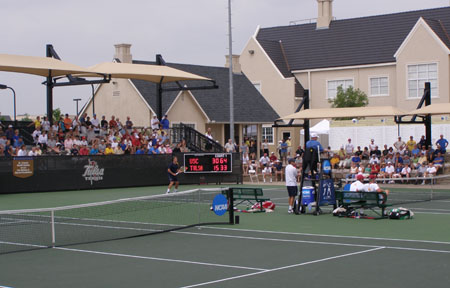 Just when I thought the matches around here couldn't get any longer -- they do. Everyone is giving it their all until the last ball as we head into the semis at the NCAA Championships.
There was only one men's singles match that didn't go the distance. Pepperdine's unseeded Bassam Beidas saw his run come to an end as Stanford's Alex Clayton dismissed him, 6-2,6-4. The eighth seed held the lead from the beginning, breaking early in both sets. It was certainly a different match for Bassam's teammate, Andre Begemann (9-16). The senior, who missed the team event because of his mother's death in Germany, needed every once of strength to fight off point in a grueling 4-6,7-6(5),6-4 against Ohio State's Justin Kronauge.
It was not a good day for the Buckeyes as Steven Moneke was also edged by Tennessee freshman J.P. Smith. The Aussie forgot his sunglasses (his trademark since the early days of the juniors), but it didn't do him any harm as he survived the long games and took it 6-2,6-7(5),6-3.
In the remaining men's singles match, top-seeded Somdev Devvarman was almost dethroned from the number one ranking spot he has held all year as alpha-seeded Denes Lukacs of Baylor came back from a 0-6 set to take a tiebreaker in the second. It was an incredible match all the way through until Somdev took control for a 4-2 break in the third, followed by a 6-3 set.
The women's singles wasn't quite as dramatic as the men's, however, there were certainly good matches. Auburn's Fani Chifchieva (9-16) and Southern California's Amanda Fink were battling it out for hours, with a first set tiebreaker to Fani and a strong comeback in the second for a 6-3 win to Amanda.
It was looking close through the great games, but when I left for a little while to watch some other matches, I came back to find that it had changed and the third was all Fani's. Her opponent in the semifinals will be Georgia Tech's Amanda McDowell, who played a match that was more exciting than the 6-3,6-2 score over Lenka Broosova shows.
The lone upset of the day was once again caused by 2006 NCAA singles champion Zuzanna Zemenova. The Baylor senior this time took out Northwestern's Maria Mosolova. The fourth seed sighed in frustration as the long games kept the match to just one break for Zuzanna in each set. Her next match will be even more challenging, though, as Aurelija Miseviciute is on top of her game. Her victim on Saturday was UCLA's Riza Zalameda, who did her best to challenge the No. 1 seed without luck as she fell 6-2,6-3.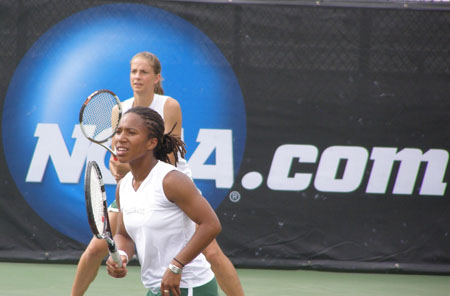 Riza Zalameda did go home a winner today as she and partner Tracy Lin were victorious over last year's finalists, Katarina Zoricic & Megan Moulton-Levy (above). Megan and Riza are two of the best women's doubles players I have seen in the college ranks so there was some great volleying to see before the 7-5,6-2 finish.
Brook Buck & Kelcy Tefft, the Notre Dame duo who draw quite a crowd here since they are both from Oklahoma, once again took it to three before finishing 4-6,6-3,6-0. I did not get to see the other two quarterfinal doubles matches. Fresno State captured them both, with Renata Kucerkova/Anastasia Petukhova set to meet Riza & Tracy and Melanie Gloria/Tinesta Rowe prevailing in the bottom.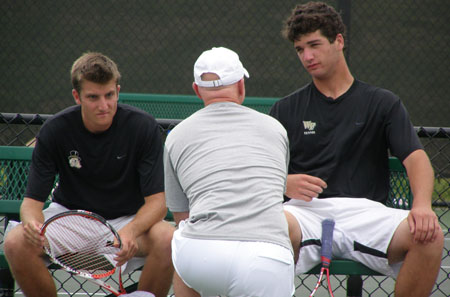 The men's doubles was once again filled with servers duels and three-setters. The one exception was in the fall of homeschool favorites Andy Connelly & Ross Cunningham, who just couldn't get past the hard-hitting second seeds, Robert Farah & Kases Van't Hof of Southern Cal. I watched almost all of Bram ten Berge/Matthias Wellerman and Steven Foreman/Cory Parr (5-8) (above) and it was certainly a serve and volley game, with the emphasis on the power serve from all four players.

It was so close that the seeded Wake Forest duo had two match points at 6-5 in the final set, but dropped them and the match in a 7-2 tiebreaker to Bram & Matthias. Another Ole Miss team, Jonas Berg & Erling Tveit, just barely defeateed Taylor Fogelman & Chris Kearney of North Carolina for their place in a semi against Texas A&M's unseeded Austin Krajicek & Conor Pollock.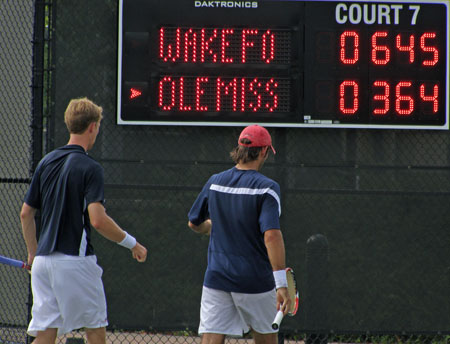 I don't know if anyone is keeping records on this one, but there will be an outstanding 14 schools represented during the eight semifinals on Sunday. Another interesting fact is that the only schools who have more than one place, have them in the same event as Ole Mississippi has two doubles teams left in the men's and Fresno State has two in the women's. There are also a number of colleges making their first showing in the final four so it looks to be another interesting day in Tulsa.
Until tomorrow,
Marcia Frost
For Additional NCAA Stories & Photos, check out:
Zoo Tennis
and the Official NCAA Division I Championship Site