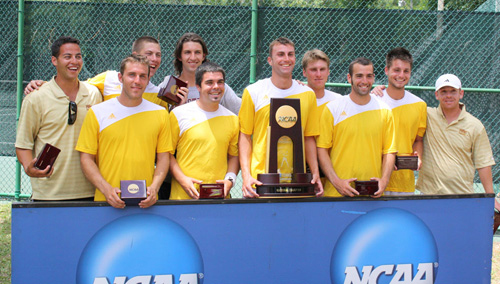 It was worth the trip from Georgia to Sanlando Park in Altamonte Springs, Florida for the Armstrong Atlantic State teams as both the men and women took the titles at the NCAA Division II Championships.
It took a five hour final, but the top-seeded Armstrong Atlantic State men's team managed to defend their NCAA Division II Championship. The marathon match begin with the Pirates losing two out of the three doubles matches to second-seeded Barry. It ended with them clinching it at #5 singles as Rafael Array defeated Roman Werschel in the third set for a final team score of 5-4. It had been six years since a score was recorded that close in a championship match, but the second time in the season the two teams had played to that score -- with the same result.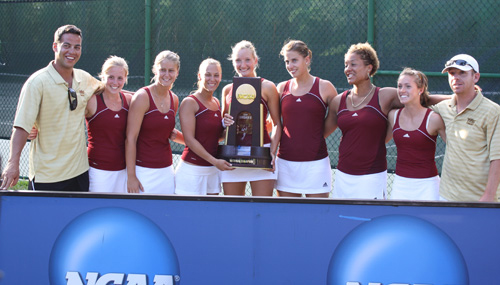 The Pirate women had a much easier time even though they were the lower seed in the match. But the win didn't start out easy. After Armstrong Atlantic took the majority of the doubles matches, Lynn came back and took four of the first sets and then Tessie Salame put them on the board with the first singles. The defending champions would take control, though, and clinch it with Gabriella Kovacs' three set victory over Jessica Yanoff.
Armstrong Atlantic State is the only team aside from BYU-Hawaii (2002 & 03) to capture consecutive titles by both its men's and women's teams.
Men's Finals
No. 1 Armstrong Atlantic State 5, No. 2 Barry 4
Eudaldo Bonet (AAS) defeated Ales Svigelj (B), 7-6,6-0
Emanuel Fraitzl (B) defeated Paul Bishop (AAS), 6-3,6-4
Mikk Irdoja (AAS) defeated Andrew Sharnov (B), 6-2,6-1
Max Wimmer (B) defeated Paul Fitzgerald (AAS), 6-2,6-3
Rafael Array (AAS) defeated Roman Werschel (B), 6-4,5-7,6-3
Tim Johannsen (AAS)) defeated Jakub Fejfar (B), 6-4,6-0
Emanuel Fraitzl/Max Wimmer (B) defeated Paul Bishop/Mikk Irdoja (AAS), 8-6
Ales Svigelj/Andrew Sharnov (B) defeated Rafael Array/Tim Johannsen (AAS), 9-7
Akos Torok/Eudaldo Bonet (AAS) defeated Jakub Fejfar/Sergio Velez (B), 8-4
Women's Finals
No. 3 Armstrong Atlantic State 5, No. 2 Lynn 2
Sona Novakova (AAS) defeated Katerina Jiskrova (L), 6-3,6-3
Alida Muller-Wehlau (AAS) defeated Magdalena Ekert (L), 6-4,6-0
Eleonora Iannozzi (L) vs. Martina Beckmann (AAS), 7-5,4-6,4-3 Did Not Finish
Gabriella Kovacs (AAS) defeated Jessica Yanoff (L), 4-6,6-4,6-4
Alisson Siaci (L) vs. Tina Ronel (AAS), 6-4,4-6,1-2 Did Not Finish
Tessie Salame (L) defeated Alisa Kagukina (AAS), 6-1,6-0
Martina Beckmann/Alida Muller-Wehlau (AAS) defeated Katerina Jiskrova/Eleonora Iannozzi (L), 8-2
Gabriella Kovacs/Sona Novakova (AAS) defeated Magdalena Ekert/Alisson Siaci (L), 8-5
Tessie Salame/Jessica Yanoff (L) defeated Kathleen Henry/Tina Ronel (AAS), 9-8(7-2)
Full Draws: Men and Women
Sign up to get notified when the airfares you want go down in price
The best at lower prices
Join SelectVIP today
Return to:
College And Junior
Tennis Homepage