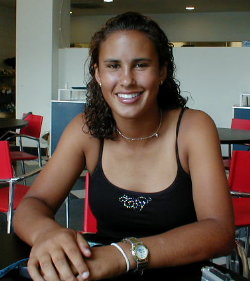 I had the pleasure (with an emphasis on pleasure) to sit down with Megan Bradley after her doubles match on Friday. I had already known from watching her all week that the eighteen year old was a very talented tennis players, but I was not aware until the interview just how bright and articulate she also was.
Much of Megan's athleticism comes from her father, former major league baseball player Phil Bradley, who was also the first African-American quarterback at the University of Missouri. (Her mother also played basketball and is very athletic.) She is currently ranked No. 2 in the Girls' 18s and has quite a collection of trophies, including: 3rd Place Singles at the 2001 Super National Hard Courts; 1st Place Doubles at the 2001 Super National Hard Courts (with Erin Burdette); 1st Place Singles at the 2001 Roxy Junior Open; 1st Place Singles & Doubles at the 1999 Easter Bowl.
Megan will be playing for UCLA this Fall under Head Coach Stella Sampras. Coach Sampras had this to say about her future player, "We're very excited to have her. She will make a huge impact on the team."
by Marcia Frost
* * *
Q: You've played Qualifying Singles, Women's Doubles, Mixed Doubles and now you're scheduled to play Junior Singles & Doubles. Why so many events right before you start college?
A: "This is the U.S. Open. They called me four days before the qualifying started and said, 'We'll give you a wildcard to qualifying singles.' I got the wildcard into the doubles because we (with Erin Burdette) won the Nationals."
"Sure, it would be nice to be home for a few days (before college), but this is just an unbelievable experience. I want to get into good playing shape before I go off to college.