TALKING WITH... MELISSA MANG
March, 2005 continued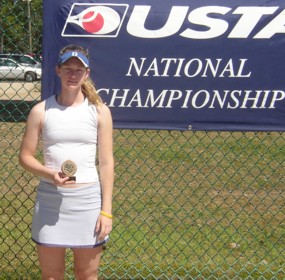 Q: Is there a tournament you haven't played yet that you really want to?
A: "There are a couple of $25,000 and $10,000s (USTA Pro Circuit events) that I'm probably going to play this summer."

Q: Do you play any other sports?
A: "No, not really. I did some track and cross country, but now it's pretty much all tennis."

Q: At what age did you start playing tennis?
A: "Seven."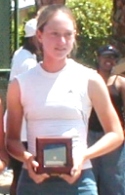 Q: Why did you chose Duke?
A: "I love Duke! I love the coach... I love the girls on the team... the campus... the academics... just everything about it. I can't wait to get there."

Q: Do you expect college tennis to be very different?
A: "Yes. My sisther plays. She goes to LSU so I'm looking forward to college tennis a lot. I'm ready to get out of junior tennis." Q: Where do you train?
A: "I have a coach. His name is Tom Hand." Q: What else do you do in your spare time?
A: "Normal stuff. Hanging out with my friends. I travel a lot so when I'm home I try to take it easy -- relax, hang out, go shopping." Q: Where are you going from here?
A: "Sprink Break! I'm going to Destin for the weekend with some friends. Tournament wise I'm playing a $25,000 in Jackson coming up. I've been on the road for a couple of weeks so now I'm ready for a break."

* * *

back to page one
---