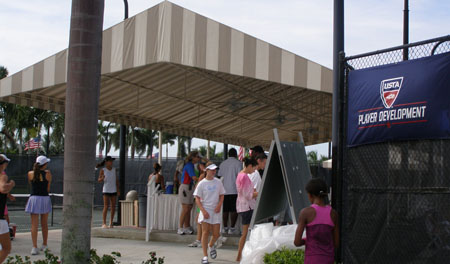 Wednesday, July 16, 2008-Day Four-Girls' 12s, Boys' 16 and 18s
The rain continued to wreck havoc with the schedules Wednesday, but I managed to maneuver through the drops to see lots of tennis.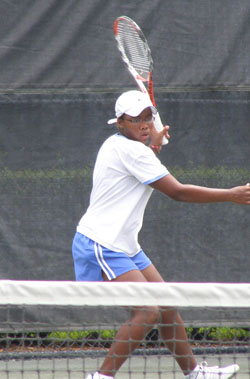 I began my day at the Polo Club in Boca Raton where the Girls' 12s have been making their home for many years. It was a bit chaotic given the past days rain delays and the compass format of the 12s that can cause confusion in itself. By the time I arrived for the maindraw matches, a round of consolation (and the finishing of Tuesday's started matches) had been complete and despite some confusion, everything was pretty much on time.
There had been only minor upsets in the first rounds (No. 2 Gabrielle Andrews fell to No. 14 Taylor Townsend -- pictured left) and the trend continued. Unseeded Adi Milstein (below), who had taken out No. 4 Gabriella Smith in the first round, did it again as this time she was victorious over No. 9 Jesse Lynn Paul. The only other high seed to go was Christina Makarova, whom I shared quite a few Nutella breakfasts with during our days at the "Little Mo"/Smrikra Bowl in Croatia. The sixth seed had been playing with a fractured finger, but it just wasn't working and she retired against Sierra Stone.
I watched a bit of top seeded Brooke Austin, looking solid as she eliminated Andie Daniell (11). It was a close one for Katrine Steffensen as the petite seventh-seed did win over Mariana Gould, who I finally got to see play and I can understand why I come across her name so much. I also saw some of an incredible match between Liz Jeukeng (looking extremely fit) and Peggy Porter. The lower seeds went at it for close games as Peggy finally took it in the third. And, just to prove how quickly things can change in tennis... I walked away after No. 12 Mayo Hibi took a quick set off No. 8 Cassie Mercer and later found out that Cassie came back and took the match.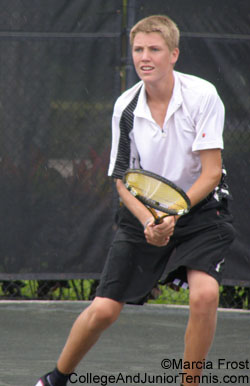 The rain was pouring down quite a bit at the Broken Sound club where the Boys' 16s were playing, but I was absolutely determined to see (and photograph) Jack Sock (finally pictured left) Our schedules had clashed and I had not seen him since the 12s, when he became only the second player (Al Parker was the first in 1981) to win all four major national singles and doubles titles in that age division in 2005. Injuries had plagued Jack and he hadn't started playing consistently until this year and his comeback included the Boys' 16s Easter Bowl title in April. It was clear that Jack is back and the 16s are on his radar. There were some great winners from Dan Richardson (it didn't look like a 6-0 set) however, there was never a doubt that it the cool and calculating Jack Sock's match.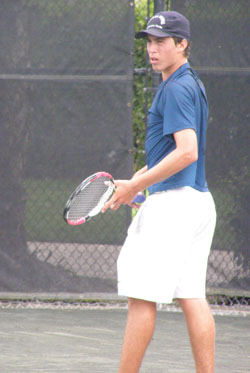 Between the rain at the Boys' 16s, I also got to see some of Sean Berman (right) and Harry Seaborn. A good matchup turned into some not so pleasant rantings from the latter after they split and so did I. (Sean did win it in the third.) It was fun to watch Shaun Bernstein vs. Garrett Brasseaux, even though the score only shows 6-3,6-2 to Garrett. I was part of a growing crowd for Nathan Pasha and Dane Webb that was also much more exciting than Nathan's 6-3,6-3 score showed. At the end of the day, nearly half the seeds were gone from the Boys' 16s, however, the top two -- Jack Sock and Clay Thompson -- remain.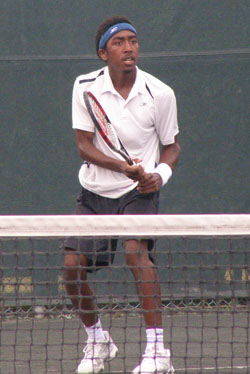 My final stop of the day (actually, evening) was at the Boys' 18s. They were still drying the courts at the Delray Beach Tennis Center so I headed over to Delray Swim and Racquet, where I was just in time for Evan King (left) and Connor Smith -- and my first actual sit down of the day. It was a tight first set as Connor pulled it out over the sixth seed, but it didn't take long for Evan to get back into it for a 6-3 second and he dominated the third for the win. Other seeds in the Boys' 18s haven't been so lucky. Heading into the round of 32, more than half are gone, but like the 16s, the top two -- Tennys Sandgren and Bo Seal remain.

Thursday I am heading back to Fort Lauderdale to the Boys' 14s at the Jimmy Evert Tennis Center. This time it looks like the weather will cooperate and I will actually get to see some tennis there!

Until Tomorrow,
Marcia Frost

P.S. I took over 200 photos on Wednesday so check back on the Nationals Page in a few days for a page of More Photos.
Check out Zoo Tennis for Colette Lewis's coverage of the Girls' 18s.

Girls 12s Full Draws
Boys 16s Full Draws
Boys 18s Full Draws
Stories, Photos & Results from other days
click on a photo to enlarge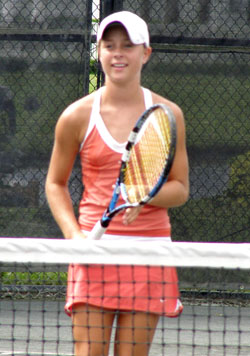 Jesse Lynn Paul
Dan Richardson
Christina Makarova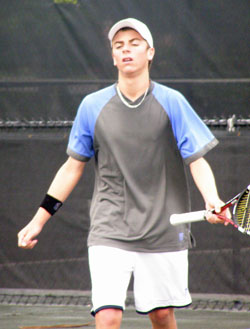 Harry Seaborn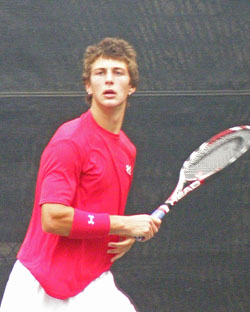 Shaun Bernstein
Brooke Austin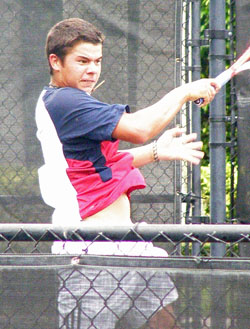 Garret Brasseaux
Andie Danielle
Dane Webb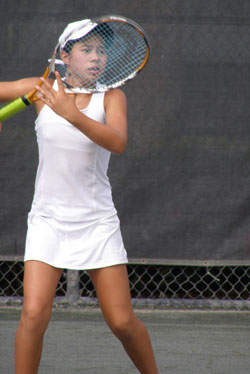 Katrine Steffensen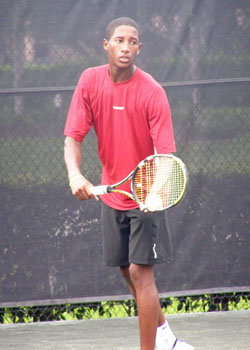 Nathan Pasha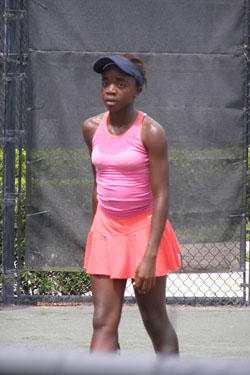 Liz Jeukeng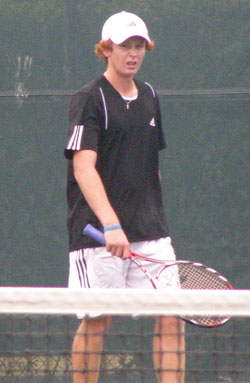 Connor Smith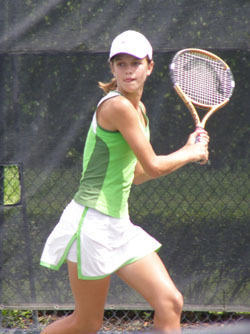 Peggy Porter
Cassie Mercer
Check the new TripAdvisor for great deals on hotels