Wednesday, July 18th-Day Four
Story by Marlena Hall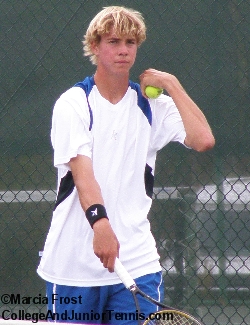 For the majority of college coaches here at the USTA Boys' 18 & 16 Clay Court National Championships hosted by the City of Delray Beach, watching the Boys' 18, top seeded player, Jordan Rux (1) -- pictured right -- (Kerrville, TX), was equivalent to a diabetic's frustration in a Baskin Robbins. Nationally ranked #3, Jordan Rux had his '31 flavors' and then some to choose for his university endeavors. But for Jordan, he couldn't resist what felt like home in his Lone Star State, and committed to join the Baylor Bears this upcoming fall. Though he verbally committed to an outstanding institution like Baylor, the competitive junior within him was not yet satisfied with his bronzed national placement—he sought the Gold.
Bearing the weight from a ton of expectation, Jordan Rux could, according to legend, empathize with the mythological God, Atlas. Losing just 5 games to Grant Fleming and Sawyer Duncan in the early rounds, it seemed as though Rux was in a flux towards the finish line. But at 10:15 AM on Day 3 of Nationals—it seemed as though Rux was in a rut. His non-seeded opponent, Spencer Smith (Salt Lake City, UT), whipped out the jeweler's microscope to find the meticulously hidden flaws in his gem of an opponent. Even having found them, Spencer Smith still needed to magnify his strengths to the highest degree and elevate his focus to take the modern day, Titan out of the National universe. Battling in the round of 32 atop Mount Olympus' clay courts, Smith rode his chariot to victory, 7-6, 7-6. Decided among the pantheon of tournament staff, we award the fruit of the gods to you, Spencer Smith, for your almighty play, as our Day 3 Boys' 18 Player of the Day.
Coming all the way from the capital of California, Matthew Spindler (4) (Sacramento, CA), had no intentions of termination in the draw of the Boys' 16 division. Ranked #6 best in the country, Spindler was to play Texan, Chris Camillone (17) (Austin, TX) in the round of 32. At #6 nationally, Spindler was sewn to greatness, especially against a deeply-rooted #17 seed, Camillone. Perhaps it was the Italian carb-loaded power meal consumed prior to his match, the mysterious black-eye he wore coming into this tournament, or the brute strength of his 'Don Corleone'-like surname, Camillone dispensed Spindler in a saga match, 6-1; 6-7; 6-4. Therefore, due to your perseverance and black-eye-of-a-tiger toughness, we'd like to award you, Chris Camillone, as our Day 3 Boys' 16 Player of the Day.
In sum, I feel it is important to acknowledge the heavy burdens of being "the best." Even Roger Federer, the world's best and possibly greatest ever, has a flaw besides Rafael Nadal. For one, he's human.
Secondly, a player must always battle 2 contestants—his opponent and his self. So what happens when "the best" has to compete against "the best"? We believe: personal growth, translating to, change.
This never-ending evolution of sport forces one to compete for a Darwinian-like "survival of the fittest." But if it weren't for competition, all things would lack animation, become stripped of its color, and become disrobed of its garment of character. Lastly, if it weren't for a second best, first place would be the "loneliest number that you'll ever do." Having said all that, it's important to disclose the final adage to the world's greatest thinkers, like our Classical shrink, Virgil, who had translated the Greek name "Atlas" to mean: hard and enduring. Therefore, for the purposes of our own allegory, we are confident that both Matthew "Top" Spindler and Jordan "Atlas" Rux will step out of the rubble and only get stronger as they embark on a whole new collegiate universe that awaits them. After all, therein above the sky, shines bright hope for the stars.
Daily admission is FREE at Delray Swim & Tennis Club, Broken Sound Country Club and continue through next weekend culminating with the quarterfinals, semifinals and finals of both the 18's and 16's played at Delray Beach Stadium and Tennis Center to a national television audience.
Also look for stories & photos on Zoo Tennis.