Thursday, July 21st, 2005-Day Five-My Final Day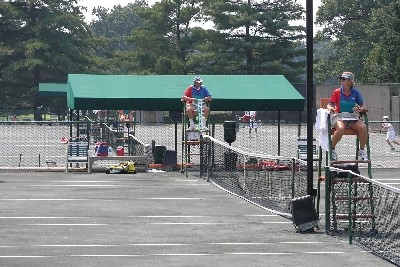 After three days you run out of ways to describe the (stifling? oppresive?) heat. I will spare you my trip to the thesaurus and just say it was once again hot. Though many of the players have adapted, I have not and I didn't watch as much as I would have liked today. Still, I saw some of the great tennis at the USTA National Boys 18 & 16 Claycourts.
The day got off to a slow start after the sprinklers malfunctioned and soaked the courts for the second time in two days. Some of the matches were quickly sent to another site and the rest of the day remained pretty much on schedule. Everyone tried to squeeze into the shaded areas as much as possible with some extra spectators coming to witness local player Jared Pinsky beat Joye Burkhardt, 6-4,6-3.
There were no stunning upsets in the boys 18s today, however, Alex Clayton is the only remaining top seed in that age group. It was Paul Koenke who dropped this round to the No. 3 seed, 6-2,6-0. As if the power the Floridian brings to the court wasn't enough, Alex is one of the players being followed around the country by cameramen (see below) for the upcoming movie about the road to Kalamzoo. (I will have more on this movie soon.)


It seems like yesterday when I was impressed watching Rhyne Williams win the 12s. There he was today looking even more impressive in the 16s as he defeated Austin Krajicek, 6-2,6-0. In other 16s action, No. 17 Adam El Mihdawy's streak of easy wins ended with a 6-1,6-2 loss to Tyler Hodwick. Adam had just come off picking up a National Open title and until yesterday had only dropped eight games in this tournament. Fellow New Yorker Adam Schwartz, the sixth seed, also left the round of 16. I caught some great shots on that one against Waylon Chin, 7-5,6-1. Top-seeded Will Guzick is still very much alive in this draw after defeating Benji Kendall, 6-1,6-3.
It is time for me to head back to New York. I will continue to bring results from this and all the Claycourt Championships. I will be following the girls to California for the National Hardcourts this year, but I do hope to make it one year soon to follow this talented group of boys to Kalamazoo.
| | | |
| --- | --- | --- |
| Christopher Cloer | Sasha Ermakov | Jared Pinsky |
Until tomorrow,
Marcia Frost
Click On A Photo To Enlarge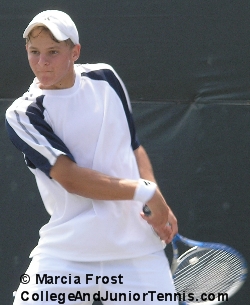 William Guzick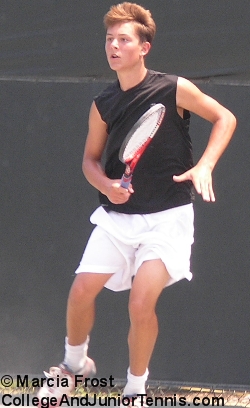 Mateusz Kecki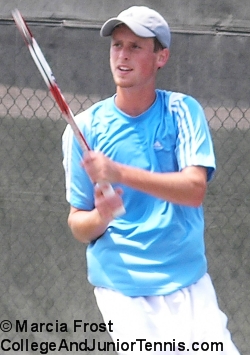 Justin Kronauge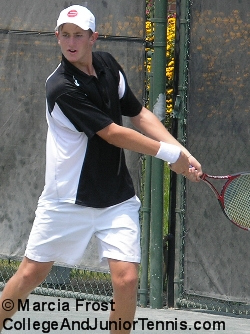 Joey Burkhardt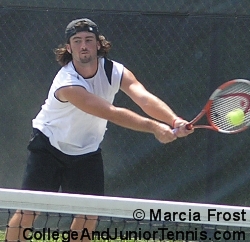 Paul Koenke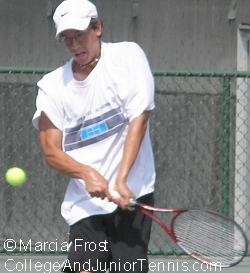 Michael Goodwin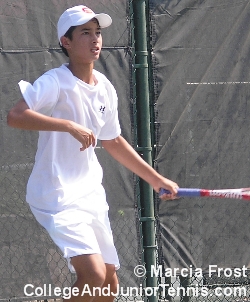 David Nguyen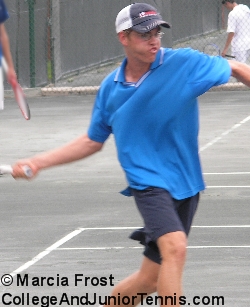 Matthew Brewer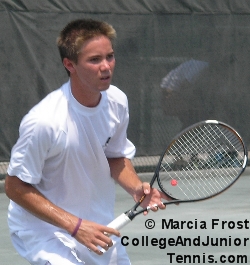 Conor Pollack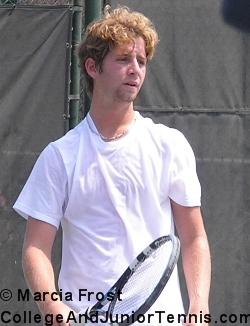 Benji Kendall
Alex Clayton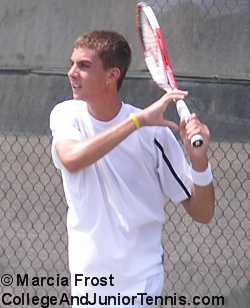 Attila Bucko
---