Tuesday, July 19th, 2005-Day Three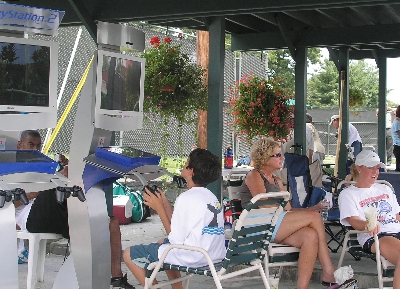 There was no doubt as to what caused the upsets today as the heat defeated everyone -- from the exhausted players on the court, to the chair umpires, three of whom required hospital visits.
As the heat index was well over 100 degrees and the humidity was near 100 percent, only the fittest could survive. It was difficult to even sit and watch as the sweat dripped faster than you could replenish the fluids, but I did manage to catch a few good matches.
The players were still dispersed among the various sites and, given my arrival today and the oppresive heat, I chose only one. It was the main site, the Woodmont Country Club, where I remained for some boys 18s action. The first match I saw was at the top of the draw as the number one seeded Mykykta Kryvonos tried to hold on past Chris Welte. Mykyta took the first set 6-4, but began to feel the effects of the heat in the second. He called for a trainer and tried to continue as Chris took it to a 6-1 win. It appeared to be his as Mykyta lost a break and was down 3-1. Though he did muster some energy to bring it to 4-5, Chris took advantage of that break to create the upset.
It was just one court over where an exciting battle was taking place between Peter Antons and Kelvin. The games continued through many a deuce as neither player was giving in. There was never a clear winner in that match until the very end when Kelvin edged it out, 7-5,7-6(10).
In a match that could very well be repeated at next year's NCAAs, future Virginia Tech freshman David Rosenfeld came very close to eliminating future Penn player (and seventeenth seed) Jonathan Boym. Jonathan won the first set 6-3, but started to show the effects of the heat in the second and could barely hang on 2-6. He seemed to be well re-hydrated for the third, however, and he dominated for a 6-1 win.
Jason Morgenstern had an impressive win over Bryan Oakley as he fought off the temperatures and kept up the momentum for a 6-3,6-2 win. I was not suprised that the majority of today's matches had short points in the hot clay. The biggest exception I found to that was Brendan Lynch and Boris Fetbroyt, who played some long, exciting points to Boris' 6-4,2-6,6-1 win.
The lack of umpires caused some long delays in today's matches, but everything was kept under control. There were Playstation games and massages to keep the players occupied and plenty of water and fans for the spectators. Unfortunately, it doesn't look like the temperatures will let up tomorrow, but I'm going to catch as many matches as I can -- starting with the boys 16s.
Until tomorrow,
Marcia Frost