Wednesday, July 20th, 2005-Day Four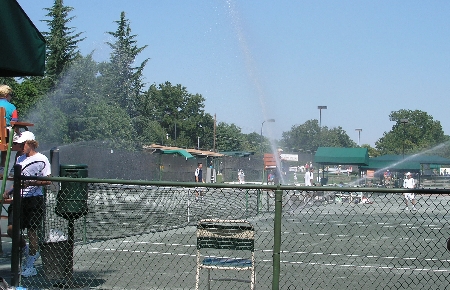 The heat did not let up today as the temperature climbed even higher, nearing the triple digits. Still, the players kept moving and the matches kept getting closer as we moved on toward the round of 16.
I had planned to cover mostly boys 16s today, and even drove over the the Indian Springs location, but the viewing there was a little too difficult to maneuver in this stifling heat. In fact, many parents remained in their air conditioned cars as the watch (reminiscint of my days as a soccer mom trying to stay warm and still watch the game). I did manage to catch an exciting second set tiebreaker betweeen fourth seeded Adam Schwartz and Connor Roth. Connor was pumped and would not let go, and Adam just grew more frustrated. Though the seed lost the breaker, 10-8, he pulled out the third set and moved on. Tomorrow the 16s will move with the 18s to Woodmont and I will see some of those matches.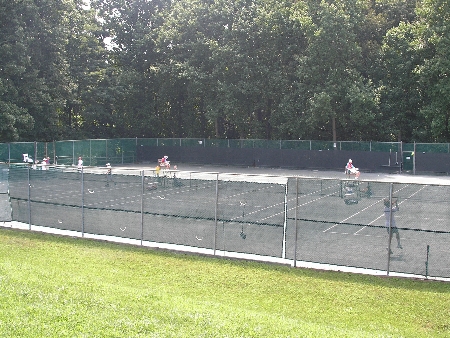 The first match I saw this morning was worth braving the heat for. Seventeenth seeded Marc Spicijaric, who will be attending the University of Illinois this fall, and Timothy Smycek played a real crowd pleaser. Timothy, the second seed, was clearly not ready for the first set. Despite some good points, Marc had it fairly quickly at 6-2. It was a reversal of roles in the second as it was 7-6 for Tim and the third was up for grabs. It went all the way to a tiebreaker and the higher seed won it 7-3. Despite the fact that these two players are mostly baseliners, I was impressed with some incredible drop shots.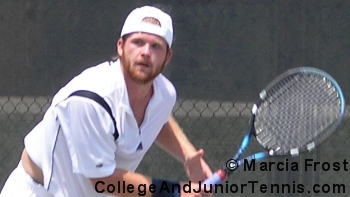 In fact, three setters appeared to be the norm today. Another one which went on for hours was Zach Taylor (pictured right) and Daniel Knause. Though Daniel prevailed 6-2,1-6,6-4, he lost in the next round to seventeenth seeded Cory Parr. Another seventeen seed, Andrew Orban got past No. 9 Clancy Shields, 6-4,5-7,7-6(6), and Chris Welte, who yesterday upset top-seeded Mykyta Kyvonos, dropped today to Chris Kearney, 6-4,3-6,6-4.
I am looking forward to being able to see all of the round of 16 matches in one place tomorrow, but I think what I'm looking forward to the most is the hope that the temperature and humidity go down. There's no promise of that yet, but the play will go on.
| | | |
| --- | --- | --- |
| Connor Roth | Daniel Knause | Michael Venus |
Until tomorrow,
Marcia Frost
Click On A Photo To Enlarge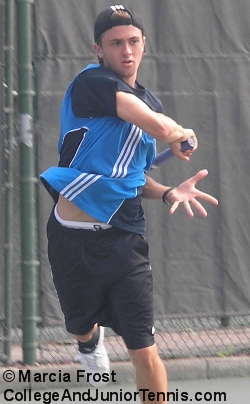 Timothy Smycek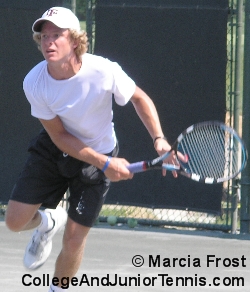 Stephen Shields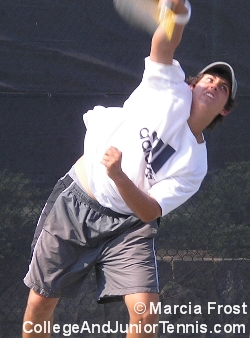 Calon Alper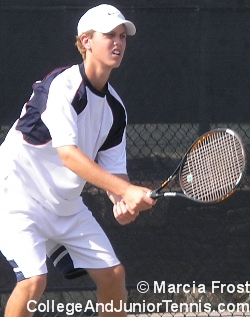 Alexander Sanborn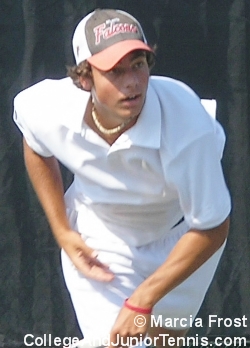 Ryan Smith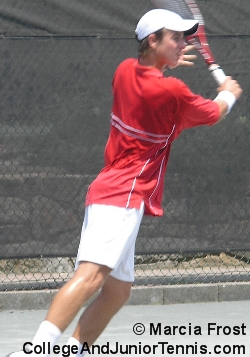 Jean Yves Aubone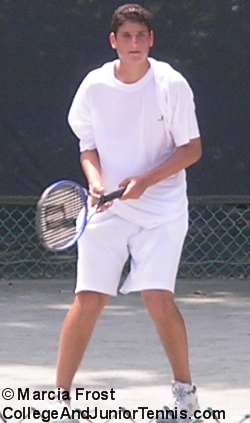 Adam Schwartz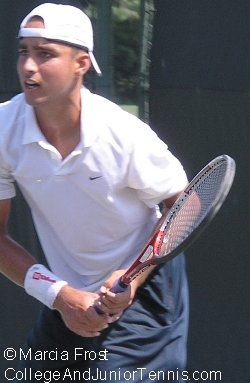 Kevin Kaiser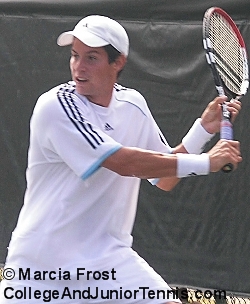 Marc Spicijaric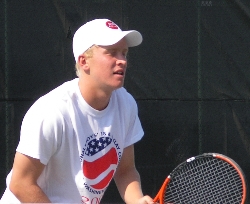 Paul Chappell
---
---