Sunday, August 15, 2004
For the first time at the USTA Girls 18 National Hardcourts, a professional player stood at the podium accepting the tournament's customary flowers and gold bracelet. Jessica Kirkland had worked hard to earn every point that led to that moment. Today's match was just one of many that she had put her all into.
Today's final had none of the controvery that overshadowed the semi Andrea Remynse had played yesterday. Line judges and a chair umpire made the calls to which there were no objections. Though she did receive one warning for delaying serve, there were no point penalties given or needed. Top-seeded Jessica Kirkland played a great match with some terrific points (match point was actually the most exciting) until she had her 6-1,6-3 win and her wildcard into the US Open. In addition, the 16 year old won the Maureen Connolly Brinker Award.
In the fifth place playoff, Nicole Leimbach was determined to win her last junior match before heading to the University of Southern California and that she did. Despite a few long games, Nicole commanded the playoff and defeated Mary Gambale, 6-1,6-2. Mary did, however, walk away with the tournament's Chairman's Award. (Vania King, who was unable to stay for the ceremony, was the USTA Sportsmanship Award winner.)
Elizabeth Kobak just couldn't get it all together after yesterday's physically and emmotionally exhausting match. In the third place playoff 14-year old Alexa Glatch took an early lead and held on until she was up 4-1. Elizabeth came alive in the sixth game and played some incredible points to bring it all the way to her advantage at 5-4. Then, with Alexa leading 6-5, she managed to hold off four set points, but Elizabeth couldn't stop the fifth or get enough momentum going before succombing, 7-5,6-2.
It was another successful tournament put together by co-directors Jennifer Pitzen and Andrea Norman. They not only took care of the details for the many volunteers and players, but even managed to raise some money for the area's underprivledged children. Everyone is already looking forwrd to next year's event at the USTA Girls' 18 National Hardcourts. And so am I.
Until Next Year,
Marcia Frost
Click on a photo to enlarge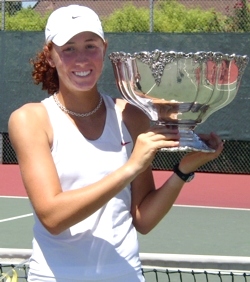 Girls 18 Champion
Jessica Kirkland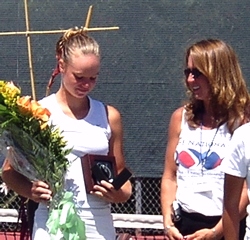 Finalist Andrea Remynse
with Jennifer Pitzen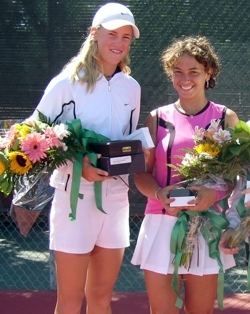 3rd & 4th Place Winners
Alexa Glatch &
Elizabeth Kobak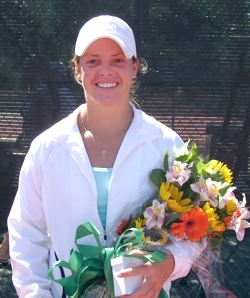 5th Place Winner
Nicole Leimbach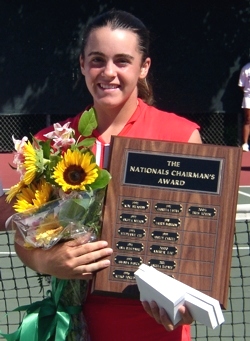 6th Place Winner
Mary Gambale





Join Fabletics & Get
2 Pairs High Quality Leggings for $24




Return to:
College And Junior
Tennis Homepage