2008 USTA NATIONAL CHAMPIONSHIPS-BOYS' 18s & 16s
Kalamazoo College - Kalamazoo, Michigan - August 1-10, 2008
Thursday, July 31, 2008-Welcome to the Zoo!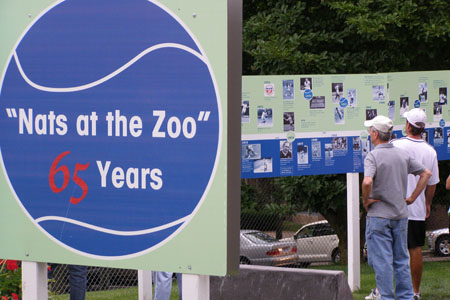 Welcome to the Zoo! There's truly no other tournament like the Nationals at Kalamazoo. Last year I got to experience the last few days and this year I'm covering the first five (before I head to the girls' in Berkeley).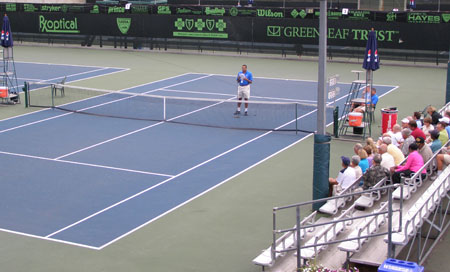 Thursday is check-in day and -- without a doubt -- socializing day. Before and after new tournament director Mark Riley had the players meeting, parents, coaches and players caught up with each other. For many, it would be the last time their friends would be their friends over the next few days as the competition here is fierce. Many are saying it's the deepest draw yet, and I have to agree. I've been asked to pick a winner for the 18s and I have yet to narrow the list below a dozen possibilities.
On Friday, the first round will be played in the Boys' 18s with the seeds enjoying a day off. On Friday evening this year's exhibition will feature two great Kalamazoo graduates -- Scott Oudsema (who also happens to be a local player) and John Isner. During the event, the boys will be squaring off with this year's top seeds, U.S. Open Junior doubles finalists Austin Krajicek & Jarmere Jenkins. And speaking of American Doubles... be sure to stop by the Kalamazoo Pro Shop to get your copy -- with a portion of the proceeds going to the tournament.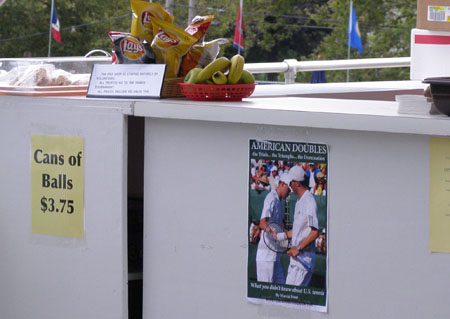 Until tomorrow,
Marcia Frost
*U.S. Open wildcards are issued as follows: Boys' 18 Singles Winner-Main Draw Men's Singles (same for doubles)
Boys' 18 Singles Finalist-Qualifying Men's Singles
Boys' 16 Singles Winner-Main Draw Junior Boys Singles
Wildcards are the same for Girls' 18 & 16. For more information, see the USTA High Performance website.

Click Here For The Official USTA Nationals Boys 18 Website
Check the new TripAdvisor for great deals on hotels

Monthly Guides to
College Tennis Planning
Available in Kindle, Print & EBook
for H.S. Seniors
and H.S. Juniors