Saturday, August 2, 2008-Day Two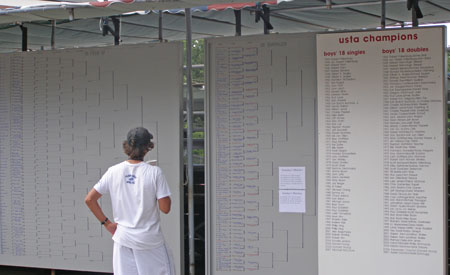 It was a beautiful day with a partly sunny sky and 80 degree temperatures. And the matches were as agreeable as the weather, with few upsets, but plenty to watch.
I started my day in front of seventh seeded Bradley Klahn vs. Shaun Bernstein. Although it took a bit of time for Bradley to warm up, once he had his break for 4-3, he kept the momentum going to 6-3,6-3. It was then on to two matches that were much closer than the scores indicated. There were lots of deuces leading to No. 11 Dennis Nevolo's 6-0,6-1 win over Conner Smith and it was a similar match for Alex Domijian, who took it 6-2,6-1 over Spencer Talmadge. There were also some long games in No. 24 JT Sundling's 6-3,6-2 over Zachary Rigsby.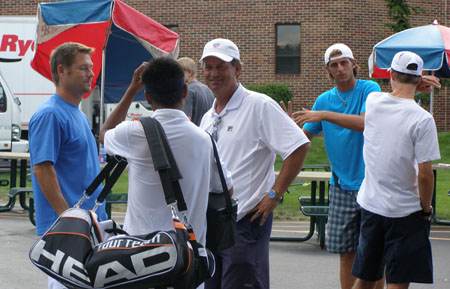 There were only two upsets today among the boys 18s. I saw the first set of No. 27 Ryan Lipman vs. Dan Nguyen. It was filled with incredible points, but the near-perfect drop shot by Dan was the constant weapon and he edged out the first 7-6(6). Ryan did come back for a solid second (6-1) and then fell in another tiebreaker (7/4) in the third. I did not see any of Joey Burkhardt's 6-1,6-1 defeat of No. 23 Walker Kehrer.
The 16s seeds did not play so there were no upsets in that age group. I did stop by to watch some fellow Easterners, Thomas Klosinski, Brendan Ruddock & Milo Hauk, all of whom are into the second round of the 16s.
My one complaint about Kalamazoo (and this will also serve as my disclaimer as to why I miss matches) is the scheduling. Though the sites are both incredible, there are 16s and 18s at both locations, doubles in between singles, and it is generally impossible to keep up with what's where. Saturday I felt like I spent more time driving back and forth and looking for matches on the sites than I did watching them. It will be much easier on Sunday when just the 16s play. And it will improve as the draws dwindle down so I can catch more of what I want to see.
Until tomorrow,
Marcia Frost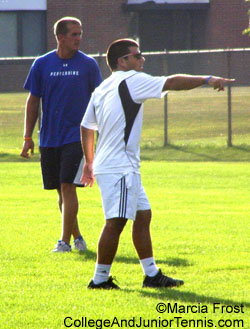 The competition on Saturday wasn't just on the tennis courts as some USTA and college coaches gathered for a "friendly" game of frisbee on the grass of Western Michigan University at the end of the day.
Click Here For The Official USTA Nationals Boys 18 Website
Click On A Photo To Enlarge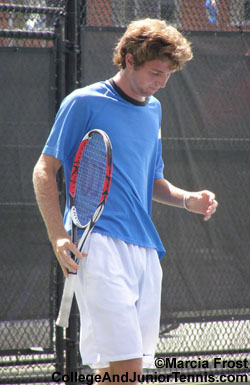 Ryan Lipman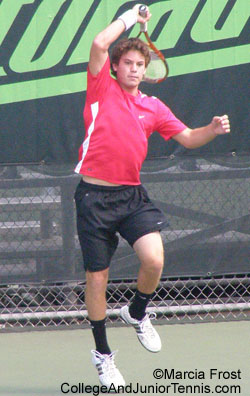 Shaun Bernstein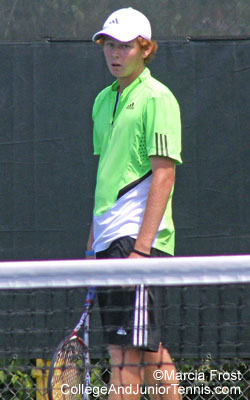 Conner Smith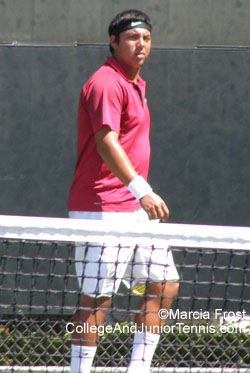 Spencer Talmadge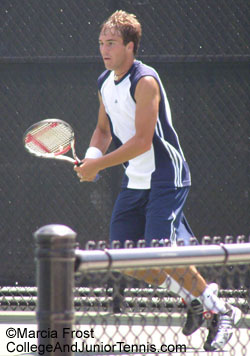 Zachary Rigsby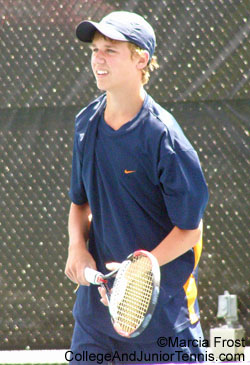 Thomas Klosinksi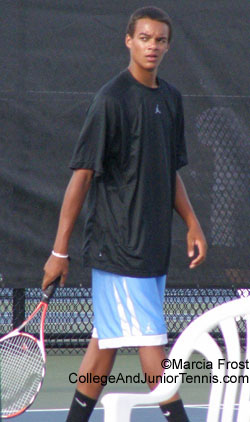 Brendon Ruddock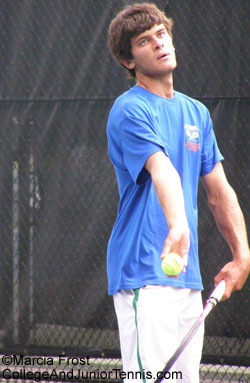 Milo Hauk
Check the new TripAdvisor for great deals on hotels