Sunday, August 3, 2008-Day Three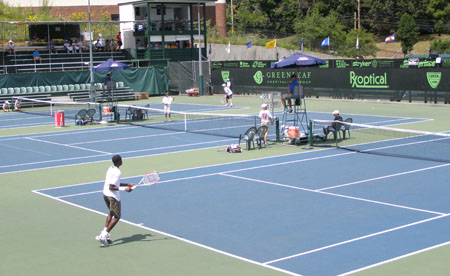 It was 16s day at Kalamazoo as the weather continued to be terrific and the seeds had a tough time, with four of the lower ones falling as the top players had to fight it out.
I arrived at Stowe Stadium in time for the second sets of three side-by-side incredible matches. It was hard enough to focus on two, so I did not see much of Ridley Seguso's 6-4,5-7,7-5 win over Alexander Steinroeder, but I certainly heard the applause while I had a great seat for Spencer Newman (20) vs. Mesa Mei and Jeremey Efferding vs. Jack Sock.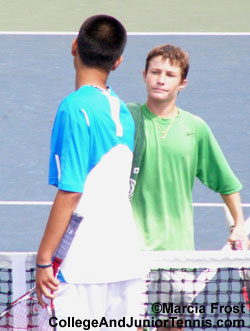 Mesa Mei had won the first set 6-3 and it was tied at 4-4 in the second. Everyone around me seemed to confirm that Spencer was having a bit of a problem getting started, however, he was in top form when I got there -- as was Mesa. The points were good, but after Spencer took the second 6-4 on a questionable call (a ball came on the court and it was decided not to be called a let based on the fact that the point was perceived over), he was primed for the match and fought off the great balls Mesa gave him for a 6-1 third.
There didn't ever seem to be a time when the match between Jeremy Efferding and third-seeded Jack Sock slowed down. After Jack took the first in a tiebreaker, it remained on serve in the second until the end when Jeremy got the break and the 6-4 set. The first game appeared to go on forever, but it wasn't long before the seed was up 4-2 and had the opportunity at 5-3 to serve for it. At that point Jeremy appeared to get a second wind, taking back the break and then bringing the score even at 5-5. The next game was Jack's. Four deuces and two match points later so was the match.
Fourth-seeded Sekou Coker Bangoura also survived a scare Sunday as he had a slow start and Dennis Mkrtchian took full advantage with a 6-3 first set win. It wasn't an easy win, but Sekou did come back for the next two, 6-1,6-1. Jordan Cox (7) also had to fight off a challenge from Ryan Richmond, before winning 6-2,6-4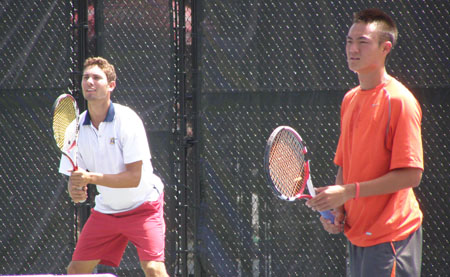 "Battle" was an accurate word to describe the doubles match between 14th seeded Adam El Mihdawy & Waylon Chin vs. Adam Donaldson & Reese Milner. I couldn't resist watching a match that would guarantee a New York Adam would win and it was more than I expected. Through the arguments there was some great doubles and the seeds finally took it, 6-4,3-6,6-0.
The only seeds that did not make it through today were Augie Bloom (30), Wyatt McCoy (31), Dennis Novikov (29) and Gonzales Austin (27), but there's probably going to be more tomorrow as both the 16s and 18s head into the fourth round.
Until tomorrow,
Marcia Frost
Click Here For The Official USTA Nationals Boys 18 Website
Click On A Photo To Enlarge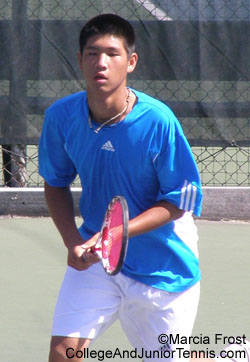 Mesa Mei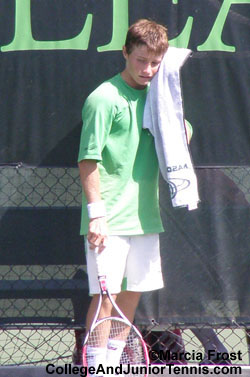 Spencer Newman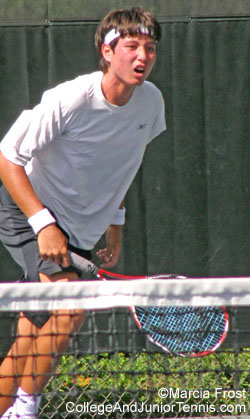 Jeremey Efferding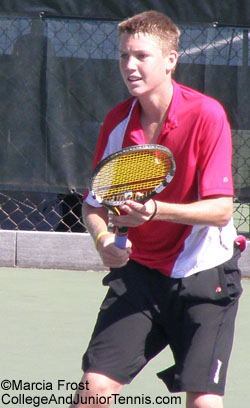 Jack Sock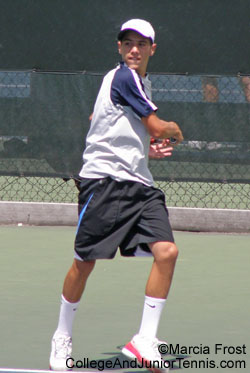 Dennis Mkrtchian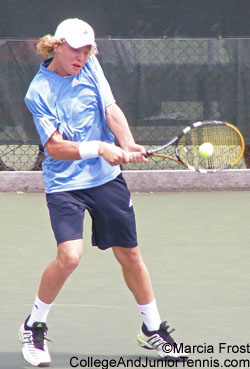 Jordan Cox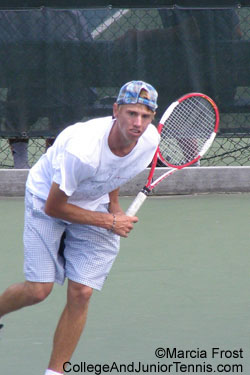 Ryan Richmond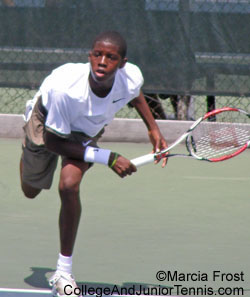 Sekou Coker Bangoura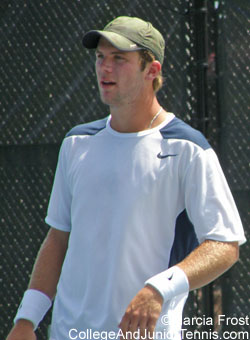 Reese Milner
Check the new TripAdvisor for great deals on hotels