Monday, August 4, 2008-Day Four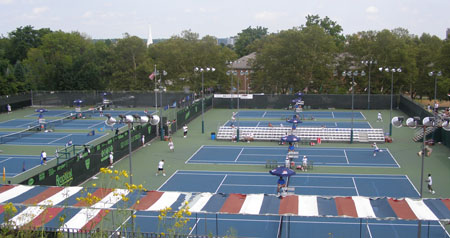 It was a day like no other here so far as the rain came and so did the humidity, tempers and long matches.
After a rain delay of a few hours, there were times when I just didn't know where to go as the tight matches were everywhere and they all seemed endless. Among the Boys' 18s matches, a third went to three sets and many of those that didn't were full of deuces and breaks. The top four seeds -- Ryan Harrison, Chase Buchanan, Adam El Mihdawy & Alex Domijian -- were exceptions, as they glided through.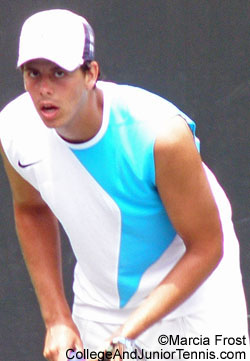 My first long stop of the day was with No. 26 Drew Courtney (right) vs. Chris Cha. Drew had won the first set, 6-3, and they were starting the second. The games were long from the beginning and -- on a fourth set point, it was 7-5 for Chris. From there he kept it going, though not without a challenge, for the upset.
The JT Sundling (24) vs. Stan Breland match was anything but a straight set victory. Although JT took the first set 6-2, it was a set that started with two long games (how about six deuces) and that was the tone throughout. The second even went to a breaker before JT moved on. As suspenseful as that match was, it didn't quite match the marathon played by Austin Krajicek (5) and John Lamble. I was back and forth to that one so I don't know the actual time, but it was hours as it took Austin to a 4-6,6-1,6-4 that was full of long games.
It was a rough match for Matt Kandath as he kept No. 15 Steve Johnson running to a tiebreaker. After Steve took it, however, Matt had difficulty getting it back together and lost the second in a quicker 6-4. He was also one of many today given a point penalty as the tempers flared as the day grew longer and hotter.
Mateusz Kecki had been touted as the player who most likely should have been seeded. The match between him and Ty Trombetta was looked forward to as a classic. And it was -- for the first set. There were some exciting points as the Mateusz took it 6-2, but the excitement dwindled as Ty took the next two 6-2,6-1. Next door there was another long one that No. 30 Waylon Chin pulled out, 6-7(8),6-1,6-2, over Richard Canelas.
Devin Britton, seeded No. 31, was the last one off the court today as he and Sam Keeton had a battle going. I watched some long points through 4-6,7-6(5) to Devin, but Sam would retire with an injury when he was down 2-0. The only upsets in the 18s other than Drew Courtney (26) were Casey Watt (19) to Jason Lin and Marc Powers (28) to Mousheg Hovhannisyan.
I watched a bit of Matt Ford vs. Mitchell Frank (14) and it was closer than the 6-1,6-1 finish. I did not get to see any other 16s today and didn't miss much. Not only did all the seeds advance, but there was only one three-setter among 32 matches -- Sekou Coker Bangoura (4), who went the distance yesterday, needed three to get past Jimmy Roebker, 6-1,5-7,6-1.
There will be lots to see on Tuesday as the fourth round in both the 16 and 18s will be played at the main site. I will be at Stowe Stadium for my last full day as the seeds play the seeds and there's sure to be lots of close matches, but they may not rival the shot of the day -- Adam El Mihdawy's "kick" during the middle of a point, which landed perfectly in court.
Until tomorrow,
Marcia Frost
Click Here For The Official USTA Nationals Boys 18 Website
Click On A Photo To Enlarge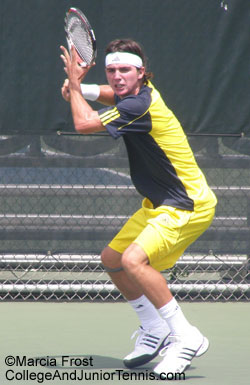 Chase Buchanan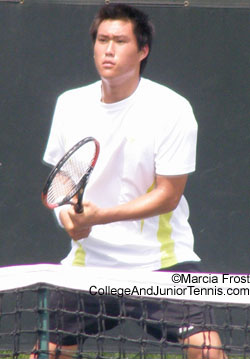 Chris Cha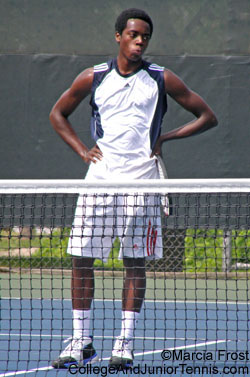 Stan Breland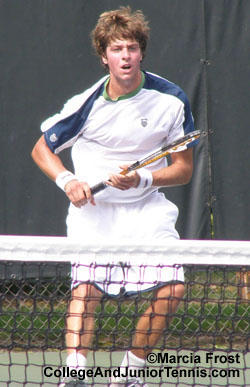 John Lamble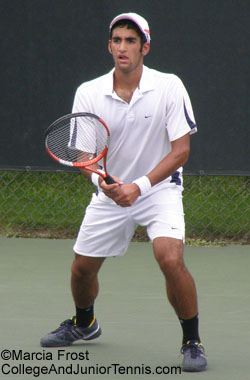 Matt Kandath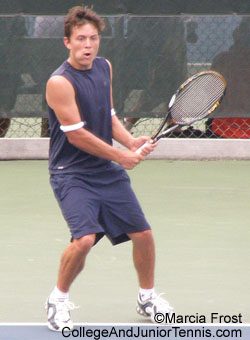 Mateusz Kecki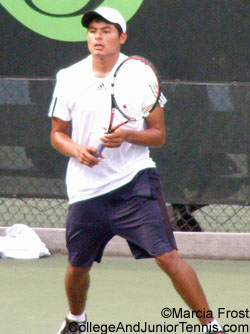 Richard Canelas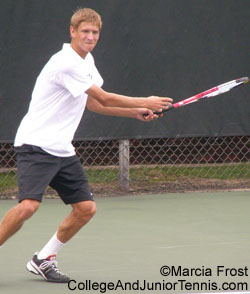 Sam Keeton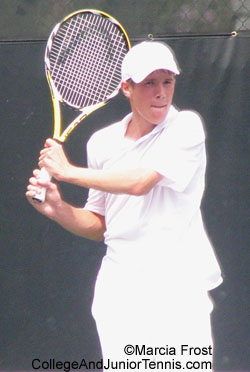 Matt Ford
Check the new TripAdvisor for great deals on hotels